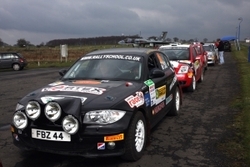 The vortex made such a difference to the race car and it's much more drivable now.
Grays, Essex UK (PRWEB) May 12, 2008
In a BMW120 diesel Fin McCaul finished first in the diesel and R3 class of the Pirelli International Rally held 19 April, 2008, which is the first round of the British Rally Championship. In terms of achievement this merits high enough to be called very exceptional. The next rally will be the Jim Clark Rally. The Vortex team is confident that their rally race exhaust technology will make the difference and that Fin has an excellent chance to carry on winning and lift the silverware.
Barry Mead of Vortex stated, "We have a unique product. The vortex resonator is the best exhaust product in the world and no other exhaust system comes near it for performance. Uniquely Vortex performance exhausts take away the inefficiencies that normally prevent an engine from giving the optimum performance. No other exhaust can do this. Basically it gives you significantly more torque and power when you need it where you need it."
For more information about Vortex and it's many applications and environmental benefits, please click here: rally race cars, road cars, 4x4, taxis, lorries use Vortex exhausts and the technology behind it!
Fin praised the new vortex rally race exhaust system. When interviewed by BRC's Simon Moss he stated, "The vortex made such a difference to the race car and it's much more drivable now." After the rally Fin said the immense difference the vortex made was in the corners which allowed him to stay in higher gears and power away in that gear rather than changing down, and there was now no turbo lag. The increased torque across the rev range made this a much more powerful vehicle.
###