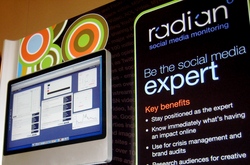 Social media has changed the landscape for how public relations and marketing firms engage with audiences
San Francisco, CA (PRWEB) November 19, 2007
Spiralgroup has selected Radian6 Technologies, Inc. as their solution partner for social media monitoring. The Radian6 solution helps PR and advertising professionals monitor and analyze social media in all its various forms from blogs to video sharing sites and from online forums to microblogging services like Twitter.
"Social media has changed the landscape for how public relations and marketing firms engage with audiences," says Marcel LeBrun, CEO of Radian6. "Early adopters like Spiralgroup recognize this and are adapting the communication strategies they deliver to clients to reflect this new reality."
"With the growth of social media, immediate research, analysis and response is critical to an effective communications effort," explains Stuart McFaul, President of Spiralgroup. "Radian6 allows us to interact with members of the social media universe in a smartly-focused and proactive way."
Initially, Spiralgroup will be using Radian6 solution in conjunction with two major client launches. In both cases, the solution will be used to uncover the influencers in specific topical areas that would be difficult to research using more conventional means. The solution will also be used to monitor the discussion generated from each launch in order to determine the hot-spots for potential engagement.
McFaul continues, "Radian6 offers a flexible easy-to-understand interface, deep research capabilities and a price that scales to meet our clients' real-world budgets. You can immediately tell the solution has been designed, in all aspects, with the agency in mind."
About Spiralgroup: With offices in San Francisco and Los Angeles, Spiralgroup is a public relations and social marketing firm with 10 years of experience specializing in emerging technology and entertainment clients. Visit http://www.spiralgroup.com for more information.
About Radian6: Radian6 provides the social media monitoring solution for PR and advertising professionals. The company's flexible dashboard enables monitoring all forms of social media with the ability to uncover the top influencers and which conversations are having an impact online. Visit http://www.radian6.com for more information.
###