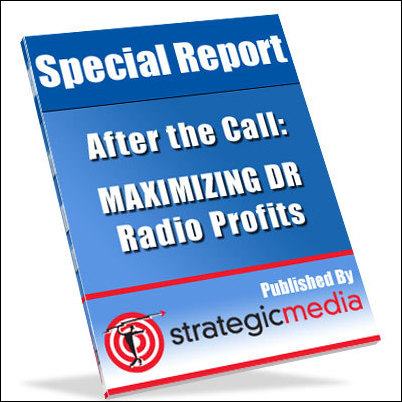 Direct response radio advertising campaigns are systems with each part impacting another. The most successful radio advertising campaigns broaden their attention to include what happens after a prospective customer calls or visits their web site as a result of their radio advertising
Portland, ME (PRWEB) June 28, 2007
"Radio advertising discussions tend to focus on the creative and media aspects of the campaign" says Jeff Small, co-author of a new report titled "After the Call: 4 Tips for Maximizing Direct Response Radio Advertising Profitability."
Mr. Small is the CEO of Strategic Media, Inc., http://www.strategicmediainc.com, the leading full data direct response radio advertising agency. "We've consistently seen that a myopic approach to media and creative elements can undermine the success of a campaign." Mr. Small is a direct response advertising industry veteran with over a decade of experience in direct marketing and direct response radio advertising. "Direct response radio advertising campaigns are systems with each part impacting another. The most successful radio advertising campaigns broaden their attention to include what happens after a prospective customer calls or visits their web site as a result of their radio advertising," says Brett Astor, co-author of this new report.
In this new report, Mr. Small and co-author Mr. Astor share what they've learned through their experiences with the most successful direct response radio advertising campaigns. The report includes insights from Scott Badger, an independent expert in direct marketing management and CEO of KPI Direct. "There are huge, untapped opportunities that can boost profitability by a significant amount," says Mr. Badger.
Radio advertisers can benefit from the actionable tips shared in this report. "Many people embarking down the direct response radio path don't realize that their choice of call center dramatically impacts the viability of their campaign," says Small. This new report addresses that issue, revealing the key attributes of the "right" call center for direct response radio campaigns, along with other tips for radio advertisers who want to get a significantly greater return on their radio advertising dollars.
Strategic Media, Inc. is the leading full data direct response radio advertising agency with over a decade of experience building radio advertising campaigns that deliver measurable results and profitable new customers. Strategic Media Inc provides a full suite of direct response radio advertising agency offerings including radio advertising strategy, radio commercial development, radio media buying, and media profitability management. Jeff Small, CEO and Brett Astor, vice president both contribute to the industry's first direct response radio advertising blog, Radio Sage, where they also share their views on the latest news and trends in direct response radio advertising.
Visit:
Website: http://www.strategicmediainc.com
Blog: http://www.radiosage.com
# # #