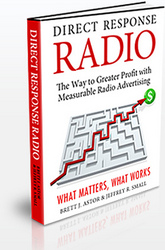 That's the underlying point of all the information we reveal in the book because that's the point of all direct response advertising - to identify what matters and what works
Portland, ME (PRWEB) April 24, 2008
In their new book Direct Response Radio: The Way to Greater Profit with Measurable Radio Advertising, radio advertising experts Brett Astor and Jeff Small provide a no-nonsense, straight-to-the-point guide for businesspeople who want to achieve profitable growth through radio advertising. "Many smart businesspeople overlook the radio medium. That's often a big mistake. In our book, we tell people why it's a mistake, and we tell them how to find out for themselves whether radio advertising will deliver profitable new customers for their business," states Mr. Astor, co-author and vice president at radio ad agency Strategic Media.
Astor and fellow co-author Jeff Small say their motivation for writing the book came from repeated interactions with businesspeople who claimed to have tried radio advertising only to conclude it 'doesn't work'.
"We found that these businesspeople, or their agencies, hadn't used any of the basic best practices we had come to learn through our experience, so they were making conclusions based on poor or incorrect data," states Small. "We wrote the book Direct Response Radio to help explain how to approach radio advertising to get the best results, to make the right conclusions."
"The theme of our book is What Matters, What Works," says Astor. "That's the underlying point of all the information we reveal in the book because that's the point of all direct response advertising - to identify what matters and what works" adds Mr. Small.
Mr. Small is a direct response radio veteran with over a decade of experience building successful direct response radio advertising campaigns. He is the CEO of Strategic Media, Inc., a direct response radio advertising agency headquartered in Portland, Maine.
Direct Response Radio includes insights on topics ranging from strategy and radio ad development to radio media buying and campaign profitability maximization. Also included are budgeting tips, top mistakes, valuable guidelines for how to approach testing in radio, and how to choose the right radio agency for your goals and values.
About Direct Response Radio
More information about Direct Response Radio: The Way to Greater Profit With Measurable Radio Advertising, including authors bios, can be found both at the book's web site, DirectResponseRadio.com, and on Amazon.com.
About Strategic Media, Inc.
Strategic Media, Inc. is a full data direct response radio advertising agency with over a decade of experience building large radio advertising campaigns that deliver profitable new customers. Strategic Media Inc provides a full suite of direct response radio advertising agency offerings including radio advertising strategy, radio commercial development, radio media buying, and media profitability management. Jeff Small, CEO and Brett Astor, Vice President both contribute to the direct response radio industry's first blog, The Radio Sage Radio Advertising Blog, where they also share their views on the latest news and trends in marketing, direct marketing, and direct response radio advertising.
Other articles from Strategic Media, Inc.:
The Current Radio Landscape and What it Means For Direct Response Radio Advertisers
Integrating DRTV and DR Radio: Clearer Understanding for Greater Profit
After the Phone Rings: 4 Tips for Maximizing Direct Response Radio Advertising Profits
To view the entire Strategic Media, Inc. article library, go to: http://www.strategicmediainc.com/radio-advertising-articles/
###