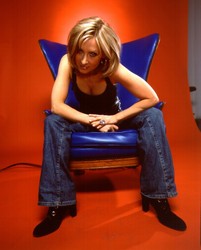 We were inspired by Adam Carolla, to be honest
New York, NY (PRWEB) April 3, 2009
Veteran New York City Radio Talk Show Host Leslie Gold "The Radiochick" launches a daily podcast show available on Itunes and Radiochick.com. Gold's irreverent, sometimes raunchy brand of topical humor has been heard for 10 years in New York City on such stations as WNEW, Q104, K-Rock and Sirius Satellite, and she is now fully embracing the new media world. Her daily podcasts are available on Itunes and on http://www.radiochick.com
"We were inspired by Adam Carolla, to be honest" says Gold. "Once we saw the success he was having reaching his traditional radio audience via podcast, and the freedom he was enjoying on his show, we felt we could do the same. I have just finished my payout period with CBS, and given the state of the world, I have so much to say I am practically busting".
The Radiochick's longtime producer Butch Brennan joins her on her daily podcasts, which include guests, bits, satire and topical news discussions." "The show will be produced at the same professional level it was in the past, but now we'll have more freedom and exposure." Longtime Radiochick show members comedian Chuck Nice and producer JC will also appear.
The Radiochick made a name for herself when she and her producer launched a nationally televised stealth attack on Kathie Lee Gifford. During Gifford's guest hosting appearance on The Late Show with David Letterman, the pair stormed the stage mid-show, tossing Gifford a badly needed bra, like a live grenade. Evolving into social commentary, Gold wore a hidden microphone, dressed in a full burka and purchased a gun in a Walmart. She has also staged an unattractive working class guy as a wealthy man to determine if NYC single women were 'golddiggers'.
A graduate of Syracuse University and the Harvard Graduate School of Business, prior to her entry into radio, Gold owned and operated Bishop Manufacturing Company, a successful medium-sized building products manufacturing company. After 10 years, she sold the 160-employee company and turned her attention to radio, a longtime passion. The Radiochick is a sought after public speaker as well. She mixes her business experience with her irreverent quick-witted delivery and has been hired by firms and professional organizations to speak to their executives on a variety of topics.
In addition to her own TV show, Leslie has had many other television appearances including Larry King Live, Nightline, The CBS Early Show, ABC Nightly News, MSNBC, CNBC, CNN, Fox News Network, WB11 News, as well as numerous local television appearances. She has also been featured in print in the Associated Press, The New York Times, Newsweek, Playboy, Penthouse, Glamour, Complete Woman magazine, The NY Post, New York Daily News, Crain's New York, among many others. She was a regular contributor to Fox's Good Day NY.
# # #