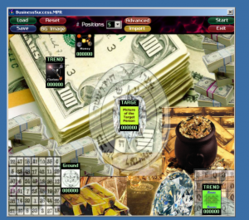 The Manifestation Pro 2012 video tutorials from Radionics Box are a complete users manual in video format. By walking the user through the setup of the program and configuring various aspects of the software the user can be up and running the program
Dallas, TX (PRWEB) September 05, 2012
Radionics Box releases new video tutorial series for Manifestation Pro Windows 7 compatible orgone radionics software program designed for use with orgonite powered chi generators manufactured by Karl Hans Welz. The new video tutorial series covers all aspects of the Manifestation Pro software including, download and installation, importing of image packages (IPAK files) and operation packages (OPAK files), creating operations, editing operations and positions, dialing radionic rates, saving and loading operation files and using the multi operation sequencing module called "Barrage."
Mike Devino, product specialist says, "The Manifestation Pro 2012 video tutorials from Radionics Box are a complete users manual in video format. By walking the user through the setup of the program and configuring various aspects of the software the user can be up and running the program quickly. Also, having everything demoed on screen avoids any misinterpretation that can happen in a printed manual. Everything a user needs to know about using the program for manifestation and radionics operations is covered in these videos.".
There are three radionics software tutorial videos in the series beginning with module one, installation and setup. Through the progression of the lessons the user will observe the installation of the program from downloaded files, the methods and procedures of importing package files, basic operations, definitions of button controls and program usage.
The Manifestation Pro radionics software program is designed for use with a Welz Chi Generator orgone generating device. The software is connected to the generator using a structural link. A chi transfer diagram will be included with the program. The diagram exists in two parts, one for software program to import, and a printed version to be placed on the generator. The printed version may be delivered in PDF format and should only be printed in color once. The company strongly recommends users laminate the printed diagram for long term durability and moisture protection. The printed diagram should be placed on top of the generator or leaning against the output pipe of the generator while the program is in use.
Radionics Box is the leading North American distributor for Hyperspace Communications Technologies International (HSCTI). HSCTI is owned by Karl Hans Welz the inventor of orgone radionics and the orgonite material. Radionics Box also develops radionics software programs for Karl Welz including Manifestation Pro 2012, Super Manifestation Ultimate 2.0 2012 and several others. For more information visit their website at radionicsbox.com.