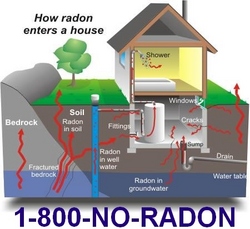 We have performed mitigation work for countless families who have been victims of radon-induced lung cancer which could have been prevented if they had been advised of radon testing before they purchased their homes
Denver, CO (PRWEB) October 15, 2010
The week of Oct. 17 - 24 is National Radon Awareness Week. Radon gas is the second leading cause of lung cancer reports the Centers for Disease Control. Health agencies throughout the United States are urging Americans to test their homes for this deadly gas during National Radon Awareness Week. This year, the week of October 17th through 24th has been designated as the week to take action and test your home for radon gas according to Air Quality Control Agency Inc. Learn more at http://www.MitigationSystem.com .
Last year, The World Health Organization announced a new action level of 2.7 pCi/l for indoor radon. This is a 32% reduction from the previously accepted limit of 4.0. This new guideline was prompted by a recent compilation of studies submitted by scientists throughout the World which conclusively point to radon as the second leading cause of lung cancer next to smoking. Based on the new 2.7 threshold, millions of homes will require radon remediation work to reduce radon levels.
Each year, hundreds of thousands of deaths throughout the world are caused by exposure to radon. This new plan of action by the World Health Organization will save millions of lives by prompting homeowners toward radon reduction. More than 100 scientists from 30 countries participated in the World Health Organization International Radon Project and assisted in the publishing of the Handbook on Indoor Radon which was released earlier this month. The book is a useful resource for concerned homeowners or anyone who wants to learn more about the toxic carcinogen known as radon. It outlines the years of research and the very conclusive findings that have triggered a push for stricter legislation and construction practices that will reduce the risk of lung cancer from indoor radon exposure. (http://www.RadonMitigation.us)
Air Quality Control Agency Inc. is one of the largest radon mitigation and remediation companies. According to their President, Jamey Gelina, "All homes should be tested for radon regardless of the geographic location or type of construction. Since radon gas cannot be detected by human senses, the only way to know if a home has a radon problem is to conduct the test."
Air Quality Control has fixed radon problems in over 20,000 buildings and houses. "We have performed mitigation work for countless families who have been victims of radon-induced lung cancer which could have been prevented if they had been advised of radon testing before they purchased their homes," Mr. Gelina added.
Jamey has worked with homeowners across the country to help them reduce their exposure to radon including Colorado, Wisconsin, Minnesota, Michigan, Indiana, Kentucky, Pennsylvania, Maryland, New York, Connecticut, and Massachusetts. "Radon problems are not isolated to these areas. Elevated radon levels have been found in every state in the U.S.," Gelina added.
The good news is that radon testing is easy and inexpensive. When elevated levels are detected, there are proven remediation methods that can reduce the radon to acceptable levels. Take advantage of Radon Awareness Week (October 17th - October 24th, 2010) as an opportunity to get a home tested for this silent killer. The health of families could be at risk, and the only way to know is to test. Learn more about radon gas, the health effects associated with exposure, and how to reduce the levels within your home at http://RadonWeek.WordPress.com/.
###