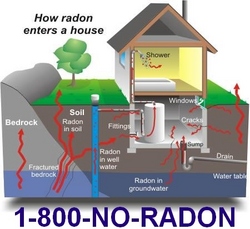 All homes and workplaces should be tested for radon regardless of geographic location or type of construction.
(PRWEB) January 16, 2010
The World Health Organization recently published new documentation that links radon gas to more deaths throughout the World than previously estimated. According to the studies, radon causes approximately 15% of all lung cancer deaths making radon the #1 cause of the cancer for non-smokers. Air Quality Control, the nation's largest radon remediation contractor, encourages the media to help promote awareness of this national health threat.
The Environmental Protection Agency has designated January as National Radon Action Month. According to recent reports from the World Health Organization, radon gas is responsible for approximately 20,000 deaths in the U.S. and 100,000 deaths worldwide each year. This equates to about 15% of all lung cancer deaths. Statistically, radon is the leading cause of lung cancer for non-smokers and the second leading cause for smokers. Learn more about radon gas at: http://www.MitigationSystem.com .
The EPA recommends that action should be taken to reduce indoor radon levels when the reading is 4.0 (picocuries per liter.) The World Health Organization recently lowered their limit or "action level" for indoor radon levels from 4.0 to 2.7 in response to several worldwide studies that point to health risks at lower exposure levels of the gas. More than 100 scientists from 30 countries participated in the World Health Organization International Radon Project and assisted in the publishing of the Handbook on Indoor Radon which was released earlier this year.
According to EPA, over 8 million U.S. homes have dangerous levels of radon gas. The agency is urging the media, state health departments, and the press to participate in National Radon Action Month by helping to promote awareness of this silent killer. Testing for radon is easy and inexpensive. "All homes and workplaces should be tested for radon regardless of geographic location or type of construction," states Jamey Gelina; president of Air Quality Control, America's largest radon mitigation company. Radon problems have been found in every state in the U.S. and since you cannot see, smell, or taste radon, the only way to know if your home is affected is to conduct a test. If you find that your radon levels are above the World Health Organization limit of 2.7, a qualified contractor can install a radon reduction system to fix the problem.
Radon gas causes more deaths each year than any other in-home hazard including fires, carbon monoxide, drowning, poisoning, falls, and even guns. National Radon Action Month is an ideal time to make your home and workplace safer. You can learn more about National Radon Action Month and local activities that you can participate in and help create awareness about this deadly carcinogen at the Radon Action Month Web site.
MEDIA CONTACT
Catherine Martin
Indoor Air Division
1-800-NO-RADON
aqca(at)mail(dot)com
###