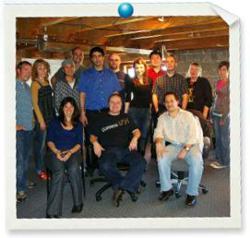 MyEvent.com has found a niche in offering a one stop shop for making an event website that accepts payments online for donations and tickets sales.
Montreal, Qc (PRWEB) February 29, 2012
MyEvent.com recently marked its 10 year anniversary online. The company created one of the first wedding website builders, but quickly realized they needed to do more than just weddings to survive. Those were the days of the first dot bomb and the co-founders Rob Hirscheimer and Mark Goldenberg felt like they were on to something. However, instead of raising a lot of money and burning through it quickly like so many of their counterparts, they decided to build the business slowly.
It still meant spending a lot on development before there was a revenue stream, but they made the most of their bankroll. Funded through loans from family members, they managed to create a real business based on expanding the wedding platform to allow them to target other events such as reunions, fundraising events, corporate events, and other personal milestone events.
Based on the idea that anyone can make a website with its easy to use web based software, MyEvent.com also developed special features for specific events. The company has found a niche in offering a one stop shop for making event websites that accept payments online for donations and online tickets sales.
MyEvent.com has focused a lot of energy on developing fundraising features that can help anyone trying to raise money online. According to Hirscheimer they make it easy for anyone to plan a fundraising event no matter how large or how small. "Whether you are looking to raise money for a friend in need or you are planning a fundraising event that needs personal fundraising pages, MyEvent.com is the best choice for you".
MyEvent.com is one of the only companies that offers a seamless experience to its customers. According to Hirscheimer, "our clients do not need to sign up with another provider to get a merchant account. We do everything for them so it is fast and easy". Recently MyEvent.com lowered their credit card processing rates to 3.75% to make them the lowest cost provider for the type of service they provide.
"We have always had a premium service and unlimited customer support, and now we are also the lowest cost provider. It's all part of our strategy to grow the business. We have a community of over 100,000 users that have used us at one time or another and we want to increase that", according to Hirscheimer. The company recently surpassed $20,000,000 in ecommerce transactions that have been processed on their customer's websites. All MyEvent.com websites come with a 7 day free trial with no credit card required so you can test it out to see if it is right for your event. To learn more about MyEvent.com watch this short movie.
About MyEvent.com:
MyEvent.com has been offering affordable, easy to use event websites to individuals, corporations and non-profit organizations since 2002. MyEvent.com also offers customized solutions and designs for special events. For more information, visit MyEvent.com to start a 7 day free trial.
###