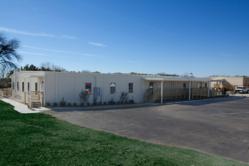 Ramtech exceeded our expectations with these buildings and we will definitely relocate them to any future site that we develop
Mansfield, TX (PRWEB) February 28, 2013
Design-build commercial modular construction firm Ramtech Building Systems of Mansfield, TX has completed the installation of three new modular buildings for First Baptist Church Frisco, located in Frisco, Texas. The 23,386 square foot project includes a 6,750 square foot middle school worship center with a 13 foot high vaulted ceiling, and 12 student fellowship classrooms. The other two facilities include an 8,060 square foot 14 classroom adult education facility with a fellowship area, and an 8,576 square foot building with six classrooms and 14 private offices with adjacent administrative support areas for the ministry staff. As the general contractor for the modular construction project, Ramtech managed all of the site preparation including extending and connecting the utilities and installing the pad-on-grade foundation. A HardiePanel exterior with a stucco finish was used to match the masonry finish of the existing structures, while the interiors include vinyl covered gypsum wall coverings, commercial grade carpet, and lay-in tile ceilings. Ramtech provided the canopies and steps, ramps, and landings for each building.
The design-build construction project is one of several church building contracts that Ramtech has secured over the last year. As part of the company's continuing focus on developing modular church building projects for faith-based organizations, Ramtech was chosen to provide the new facilities in order to meet the demand for additional space due to First Baptist Frisco's rapidly growing congregation. Started in 1902 in what was then only a one-horse train stop town, FBC Frisco is located in one of the fastest growing cities in Texas. The Church expects to add 1,100 new members to an already large congregation, and anticipates using the buildings for a minimum period of four-years while permanent expansion plans are developed at a new site. According to Steve Stege, Executive Pastor of FBC Frisco, "Ramtech exceeded our expectations with these buildings and we will definitely relocate them to any future site that we develop."
All of the modular buildings used for the FBC Frisco project were designed and manufactured at Ramtech's Mansfield, TX manufacturing facility, part of a 20 acre development located in the southern part of the Dallas-Fort Worth Metroplex. The company has convenient access to the major transportation arteries that serve cities throughout Texas and the Southwest. Structured as a vertically integrated design-build construction company, Ramtech provides space planning, design services, manufacturing, site construction and finish-out on every project they produce. The company maintains a consistent workforce of production workers and supervisory personnel with an average of 13 years experience, many with tenures over 20 years. This experience, coupled with Ramtech's approach to modular manufacturing and construction, allows for greater control at each step in the building process resulting in significant time and money savings for their clients.
About Ramtech Building Systems
Since 1982 Mansfield, Texas-based Ramtech Building Systems has been providing innovative modular buildings for government agencies, healthcare providers, Fortune 500 companies, and educational institutions throughout the Southern United States. As a design-build construction company, Ramtech offers full in-house design, a manufacturer direct product, and complete site construction services all within a single-source solution. By emphasizing a value engineering approach, Ramtech has successfully completed over 2,500 prefabricated buildings for diverse projects of all sizes. For more information, visit the company's website at http://www.ramtechmodular.com.