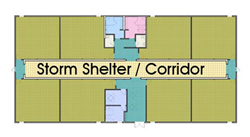 We developed a modular building approach to create a hardened storm shelter that is fastened directly onto a concrete slab foundation, allowing it to counter the uplift generated from tornado force winds while protecting against the flying debris that can easily penetrate ordinary buildings
MANSFIELD, Texas (PRWEB) September 11, 2018
Design-build commercial modular building firm Ramtech Building Systems of Mansfield, Texas has announced that the company has developed storm shelters that can be integrated into new construction or function as a standalone structures to meet Group E occupancy requirements for K-12 education facilities of 50 or more occupants and for Emergency Operation Centers such as 911 call centers, fire, ambulance, and police stations. The storm shelter designs meet FEMA-361 requirements for safe rooms, and Section 423 of the 2015 edition of the International Building Code which mandates the placement of ICC-500 compliant storm shelters for new construction in a multi-state area from Central Texas to the upper Midwest. The storm shelters have been developed to meet wind speeds of up to 250 MPH and have ballistic sheathing to withstand a debris missile impact of a 15-pound 2x4 shot at 100 MPH. According to Roland Brown, Ramtech's vice president of design and development, "We developed a modular building approach to create a hardened storm shelter that is fastened directly onto a specially designed engineered concrete slab foundation which allows it to counter the uplift generated from tornado force winds while protecting against the flying debris that can easily penetrate ordinary buildings." When integrated into new construction, the storm shelters function as the corridor in a multiple classroom or office building, or they can be used as freestanding structures placed adjacent to existing buildings.
Using a variation of Ramtech's innovative slab-on-grade permanent modular construction process, the storm shelters are manufactured with attached ceilings and walls but without floors, which allows the modular sections to be fastened directly onto a conventional concrete slab foundation. This allows the concrete slab to become the floor of the structure just like a site-built building. By applying this technique, Ramtech is able to construct the building faster and with less cost, but identical in the look, functionality, and life expectancy of a completely site built structure.
About Ramtech and Modular Construction
Since 1982 Ramtech Building Systems has been providing innovative relocatable and permanent modular buildings for commercial companies, educational institutions, government agencies, and healthcare providers throughout the Southern United States. As a vertically integrated design-build construction company, Ramtech provides full in-house design, a manufacturer direct product, and complete site construction services all within a single-source solution. Ramtech can offer facilities built using permanent modular construction on both a pier and beam or concrete slab foundation. Both options combine the best of off-site manufacturing and on-site construction techniques in order to produce a building faster and with less cost, but identical in the look, functionality, and life expectancy of a completely site-built structure. By emphasizing a value engineering approach, Ramtech has successfully completed over 4,000 diverse projects of all sizes. For more information, visit the company's website at RamtechModular.com.