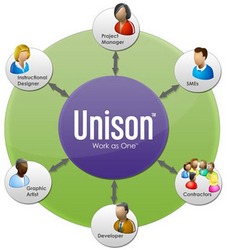 Teachers don't need to know any programming in Flash to create games, quizzes, tests, and other online learning activities
Provo, UT (PRWEB) October 15, 2009
Rapid Intake, a collaborative rapid e-learning software company, based in Provo, Utah, has announced a nation-wide academic grant program for K-12 and higher-education institutions. Rapid Intake is supplying their award-winning, web-based e-learning software, Unison, to two hundred schools for the purpose of creating online learning courses.
The Rapid Intake E-learning Software Grant provides an unlimited campus license to successful grant applicants for a period of six months. During the grant period, schools can create Flash-based lessons, activities, quizzes, tests, learning games, and simulations, and collaborate during the course creation and review process with an unlimited number of instructors, staff, and administrators.
Schools can get started immediately after being accepted into the program because there is no software to download or install. Teachers simply log in to their school's account online and build interactive e-learning lessons right within the web browser. Once finished, the lessons can be hosted right within their Rapid Intake e-learning software account, or they can download the course and upload it to another web server or to a learning management system (LMS), such as Blackboard.
"Teachers don't need to know any programming in Flash to create games, quizzes, tests, and other online learning activities," says Garin Hess, Rapid Intake CEO.
For teachers who like to create presentations in PowerPoint, they can directly upload their PowerPoint file into Rapid Intake's online e-learning software, then add additional content based on a built-in library of interactive templates.
Making e-learning software available to teachers helps schools address the growing need to train non-traditional students remotely, present interactive and fun lessons, and also give traditional students meaningful homework assignments.
When the Rapid Intake E-learning Software Grant period is over, schools are able to keep all courses, lessons, quizzes, games, and interactions that they created with Unison. They are also able to use these items to train as many students as they wish.
"The future of effective education in the US is dependent on schools utilizing technology to teach students with interactive methods that promote mastery and retention," said Steve Hancock, Rapid Intake President.
Any teacher from the school can submit an application. All grant applications must be received by November 6. Schools interested in applying should go to http://www.rapidintake.com/academic/authoring-tools/rapid-intake-elearning-software-grant/
About Rapid Intake:
Rapid Intake is the leader in rapid eLearning development and review. Creating online and computer-based lessons saves schools vital dollars, and broadens access to learning for both traditional and adult students. The powerful, flexible Rapid Intake toolset helps instructional designers and instructors collaboratively create Flash-based interactive courses, quizzes, games, and simulations built on proven learning patterns. Rapid Intake's unmatched "UNLIMITED Program" backs its award-winning software with innovative licensing and its best-in-class customer support.
Hundreds of companies and schools rely on Rapid Intake's top-ranked technology and support to create more interactive and effective courses in less time. To learn more to go http://www.rapidintake.com.
Primary Contact Information:
David Blakely
Lead Academic Product Specialist
email: davidblakely (at) rapidintake (dot) com
Phone (direct): +1 801.341.0380
Phone (toll free): (866) 231-5254
Secondary Contact Information:
Garin Hess
CEO
email: garinhess (at) rapidintake (dot) com
phone (toll free): (866) 231-5254
###