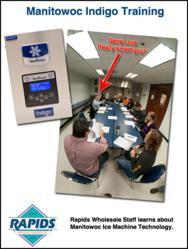 Marion, Iowa (PRWEB) March 29, 2013
Don Stevens, LLC territory manager Gene Lind visited Rapids Wholesale Food Service's Marion location this month to educate associates on Manitowoc's Indigo Intelligent Diagnostic Ice Machine models. These ice machines feature computerized mechanisms and a display screen designed to make maintenance simpler.
Rapids Wholesale associates also asked questions they commonly hear from customers, and tried their hands at operating the intelligent features on a glowing, blue-screened display model. "It's real basic," Lind said of navigating the computers.
During training, Lind explained the USB port feature on Indigo ice machines. This port allows technicians to download ice machine data, simplifying repairs, he said. These machines also let users create cleaning reminders, show why a machine is malfunctioning, and set ice clarity to make cleaner-looking ice.
Lind explained the process of accessing language settings as well, adding Manitowoc is working on technology to add more language options.
In the past, these intelligent features were not available on undercounter ice machines. But this may soon change. Manitowoc expects to release a new undercounter unit with intelligent features this year. In a press release, Manitowoc refers to the unit, called the NEO, as "the first undercounter ice machine to offer operators feedback and vital performance and operational information at a glance."
Rapids plans to carry the NEO after Manitowoc releases it.
During training, Lind explained how the NEO's features make it easier for service technicians to do quick, hassle-free repairs. "When service people come in, they're going to be able to get at it; work on it," Lind said.
Throughout training, Rapids associates also asked questions, many of which they frequently hear from restaurant and bar owners. They learned what happens to intelligent ice machines when the power goes out, and how the reminder function alerts users to maintenance reminders — the computers automatically reset during a power outage, and the display flashes without beeping during reminders, Lind said.
Rapids associate Mary Beth Dicken said many of her customers struggle to determine how much ice they need to make. For questions like this, Lind recommended an ice calculator that can be accessed on Manitowoc's website.
Before wrapping up, Lind also explained "sleep mode," a feature he said hotel owners and staff may appreciate. "Sleep mode" allows users to program machines to avoid noisy ice drops near sleeping customers in the middle of the night, he said.
This same feature also helps users save energy and ease production during slow seasons, he added.
Rapids Wholesale associates urge curious customers to reach out with questions about intelligent ice machines, or any other ice machine-related questions. Customers and potential customers can reach an associate at 1-800-472-7431, Monday through Saturday. Rapids Wholesale also features an ice machine tutorial on its website (http://rapidswholesale.com/education/).
Since 1936 Rapids Wholesale Equipment has been a leading supplier of restaurant, bar, and catering supplies and equipment. Rapids features top brands such as: True, Beverage Air, Libbey, Frymaster/Dean, Hobart and many more. Rapids Wholesale offers the best commercial kitchen equipment in the foodservice industry at competitive prices. At RapidsWholesale.com, one can find everything from long draw beer systems to bottle coolers. The company also offers kitchen layout and design services in addition to equipment procurement and managed installations. From plates, knives and forks to the tables they rest on, Rapids' warehouse is ready to ship at a moment's notice. Delivery is fast and its prices are fair.