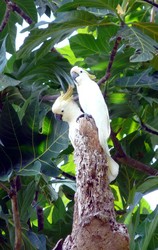 Pope Valley, CA (PRWEB) October 22, 2008
The world's rarest cockatoo has been found in Indonesia. A research team on behalf of the Indonesian Parrot Project rediscovered the Yellow-crested Abbott's cockatoo this summer in the Masalembu Archipelago. This archipelago is in the remote Java Sea, north of the cities of Surabaya and Bali, and east of southern Sumatra.
Parrots are the most endangered bird family. A number of the parrots threatened with extinction are found only in Indonesia. Four of the five cockatoo species listed on the highest category of protection by the Convention on International Trade in Endangered Species are found in Indonesia. Of these, the Yellow-crested cockatoos (Cacatua sulphurea) are the most imperiled. This species contains four subspecies. Three of these are fairly well studied. However, one (C. sulphurea abbotti) has remained largely a mystery until now, but is known to be at great risk.
Studies in the 1990's, which remain largely unpublished, found that only 5-10 individuals remained on Masakambing. However, there are essentially no extant data since that time, and intervening extinction was a distinct possibility.
Therefore, the Indonesian Parrot Project, a U.S. all-volunteer, non-profit NGO working with Konservasi Kakatua Indonesia (its allied NGO) launched an expedition to the Masalembu Archipelago in June and July of 2008 . The field work was led by Dudi Nandika and Dwi Agustina (both from Jakarta, Indonesia and co-founders of KKI) working under the guidance of Dr. Stewart Metz, President and Director of the Indonesian Parrot Project.
Due to the small size of Masakambing, Nandika and Agustina were able to make detailed surveys of the entire island. Once the skies had been filled with flocks of these cockatoos; now a total of only ten cockatoos was identified--four males, four females, and two juveniles--making them the most threatened cockatoo in the wild and one of the world's rarest birds. Like other members of the C. sulphurea species, these beautiful birds have a largely white body with a brilliant yellow, forward-curving crest, and slight yellow on their ear covert feathers. They may be the largest of the four subspecies. The first photographs of these birds in the wild outside of Indonesia were acquired, as was some videotape footage of the birds mating, preening, eating, playing with twigs, examining nest holes, and similar natural behaviors.
Two major threats to the survival of the Masakambing cockatoo were identified. One is their capture for the illegal pet bird trade. It is usually nestlings, rather than adult birds, which are taken. Formerly, they were trapped in large numbers by outside visitors who took them to Bali and Sumbawa Islands. Now, with the marked decline in their numbers, the birds are only sought by government officials, who keep them as pets due to the prestige of owning such a rare bird. A second risk factor has been the logging of trees which had been suitable to provide food and nest holes for these cockatoos. This area has been planted, especially with coconut palms, with almost total destruction of previously favored habitat flora such a kapuk trees (Ceiba pentandra) and mangrove (Avicennia apiculata).
Due to the extreme gravity of the situation, an intensive conservation program was initiated on behalf of these cockatoos. Visits were made to Junior and Senior High Schools to teach students the principles of conservation, increase their awareness of the plight of the birds, and foster pride in their rare and unique bird. T-shirts are being made to reinforce this message. Laws to protect these birds had been passed but only in the distant "kabupatan" (district) of Madura and these decrees are out of date; there are plans to update these and extend them locally to the islands of the Masalembu Archipelago themselves, where they are more likely to be enacted. Officers from the armed forces and police locally were taught about the protections already in place nationally and internationally and were encouraged to conserve the birds. Stickers reminding villagers of the plight of their cockatoo will be placed at suitable locations.
Other measures under consideration include: paying the villagers for each cockatoo which is allowed to successfully fledge (leave the nest); hiring local villagers as "wardens" to protect the nests from disturbances; protection of remaining habitat; increasing knowledge about the biology of the bird through ecological research studies; holding town meetings for informational and awareness purposes; and providing artificial nestboxes for breeding. The most aggressive and complex approach might be to initiate a captive breeding program. For the latter, attempts would be made to locate and breed any C. sulphurea abbotti outside the island or in local zoological parks. Their chicks could then be used to repopulate Masakambing (unfortunately, the other two islands are too deforested to consider for this approach).
It is hoped that, in view of the gravity of the situation, international assistance and funding can be found to save this magnificent but rapidly vanishing cockatoo.
For more information, photographs or video please contact Bonnie Zimmermann, Vice President, Indonesian Parrot Project, (707) 227-5155 or (707) 965-2538.
###