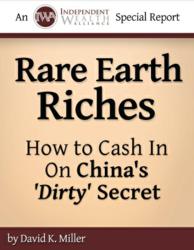 "Rare Earth Riches" offers the three top companies to look at as potential investments, and explains the reasoning behind each recommendation.
Austin, TX (PRWEB) May 13, 2012
Today's AbsoluteWealth.com article said that a rare earth stocks list naming the most explosive companies will award more investing success than imaginable. Because of the gigantic demand and massive price spikes, rare earth metals are proving themselves as big market influencers. Now is the perfect time to learn about and invest in them, just as their numbers make a final push for the top.
To help introduce the concept of rare earth investing, Absolute Wealth and its Independent Wealth Alliance membership program are releasing a Special Report that will lead any investor down the path to success. "Rare Earth Riches: How to Cash In On China's 'Dirty' Secret" is the foolproof guide to understanding, finding, and profiting off of the best rare earth production companies who are taking advantage of such unique market circumstances.
The online article said China is mostly responsible for the boom in rare earths, mainly because it has been the biggest producer for decades. Even though rare earths are found all over the globe, China got a jump on the rest of the world and started to dominate the industry.
From 1990 to 2000, China's rare earth production rose by 450%. In the same span of time, other countries dropped their production by 60%. China went from being the Most Valuable Player to the only game in town in a matter of 20 years, said the article. Now that China has cut exports, the price and demand are both shooting sky-high.
Even though more producers are stepping up to the plate, much of the world still depends on the dwindling exports of rare metals from China. In March of this year, the U.S., Japan, and parts of Europe filed a complaint with the World Trade Organization over China's stinginess. The complaint has now caused a standoff, as China continues to hold out and other countries continue their need for rare earths.
That standoff also makes investing in rare earths an intriguing practice, said the article, especially with so many companies eager to prove themselves as worthy adversaries to the Chinese producers. "Rare Earth Riches" offers the three top companies to look at as potential investments, and explains the reasoning behind each recommendation.
Absolute Wealth is an expert team of real investors and advisors devoted to identifying winning strategies for exceptional returns. Members subscribe to the Independent Wealth Alliance for professional investment analysis and recommendations on the latest trends and progressions. For more, visit AbsoluteWealth.com.
Absolute Wealth's Special Reports always deliver real, actionable suggestions on investment techniques. "Rare Earth Riches" is no different, and promises an extensive breakdown of the global rare earth situation. And of course, it includes a rare earth stocks list of the companies best positioned to achieve market success.