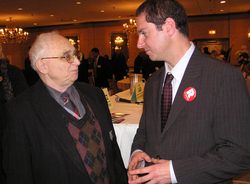 Rather than tackle the dire problem of Social Security shortfalls honestly and openly, the SSA has made an arbitrary decision to tap the underrepresented
Chicago (Vocus) January 22, 2010
Republican U.S. House candidate David Ratowitz (IL-5) shares seniors' widespread worries about deep cuts to Social Security benefits brought by the Windfall Elimination Provision (WEP) and similar modifications. Ratowitz addressed the concerns of hundreds of frustrated beneficiaries Saturday at a Polish American Congress candidate forum in Niles.
Polish and other immigrant communities are particularly concerned with the SSA's new interpretation of WEP that affects low-income retirees based on complex intergovernmental agreements between the United States and their home countries. Revised formulas dictate a monthly retroactive benefit reduction of a minimum of 40 percent, with a cap at $380.
"Rather than tackle the dire problem of Social Security shortfalls honestly and openly, the SSA has made an arbitrary decision to tap the underrepresented," Ratowitz told the crowd. "Bad policy cannot be solved by cheating. I will be your champion in Congress on this issue."
The Social Security Administration's WEP effectively limits payouts, primarily affecting beneficiaries who have earned a pension in any job that did not take Social Security taxes and also have worked in other jobs long enough to qualify for a Social Security retirement or disability benefit. Legislation under consideration in Congress would repeal WEP, as well as government pension offset requirements. Bipartisan H.R.235 Social Security Fairness Act of 2009 has been referred to the House Ways and Means Committee. The bill has amassed 314 co-sponsors.
"We know via the Congressional Budget Office and by examining many other indicators that Social Security is unsustainable," Ratowitz explains. "Social Security payments begin exceeding revenues in 2016, and the program will be bankrupt in 2036. We can no longer afford to delude ourselves into believing that we are shoring up a trust fund.
"We absolutely must fulfill our obligations to today's retirees, but immediately enact system-wide reforms and explore free-market alternatives, like individual IRAs, to a program that was destined to fail," Ratowitz continues, "WEP is an unjust shortcut and an unacceptable response to a system breakdown."
About David
Entrepreneur, Army veteran and conservative activist David Ratowitz is running for the 5th Congressional District Republican nomination in the February 2 Illinois Primary Election. Endorsements for Ratowitz include Tax Accountability, the political action arm of National Taxpayers United of Illinois; Cook County Commissioner Tony Peraica; Pioneer Press, a Sun-Times Media company; Republican Liberty Caucus; LibertySlate 2010; 32nd Ward GOP Committeeman John Curry; and North Town News Magazine and Jewish Chicago. The Ratowitz for Congress campaign platform supports a limited federal government, low taxes, fiscal discipline and accountability, free markets and individual liberty.
Learn more about David Ratowitz's campaign at his campaign website http://www.ratowitzforcongress.com. Phone 773.897.5800.
# # #