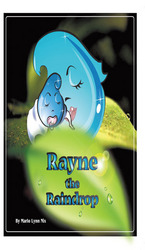 Malden, MO (Vocus) November 7, 2010
When Marlo Nix wrote her paper on the water cycle for a classroom science assignment, she knew she had the beginnings of a great story. With the release of her debut book Rayne the Raindrop (published by AuthorHouse), Nix writes the exemplary tale of the life of water.
Rayne the Raindrop is a fun and educational story that personifies the water cycle. Readers follow Rayne, a newborn raindrop who grows and completes the water cycle for the first time. Accompanied with full color illustrations, Rayne the Raindrop takes readers through the entire water cycle.
Water covers nearly three-quarters of the earth's surface. It is recycled through an ongoing process that includes evaporation, condensation, precipitation and collection. Nix brings these meteorological processes to life in Rayne the Raindrop, showing each step of the cycle through the life of an energetic raindrop cleverly named Rayne.
While Rayne the Raindrop is geared towards grade-school readers, older readers will also benefit from its informative storyline and lively illustrations. As Nix unknowingly illustrates the preciousness of each water cycle stage, the reader realizes how environmental encroachments can have long-reaching effects to our water cycle.
Rayne the Raindrop is a perfect addition to scholastic reading lists and school library collections. With charm and humor, Nix has made learning about this important scientific process fun and entertaining.
About the Author
Marlo Nix, now a 6th grade student, enjoys writing stories. She lives on a Missouri farm and enjoys spending time with her farm animals and playing sports with her brother Heath.
AuthorHouse is a premier book publisher for emerging, self-published authors. For more information, please visit http://www.authorhouse.com.
# # #