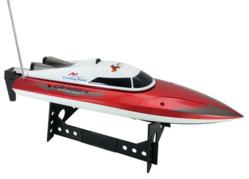 (PRWEB UK) 29 March 2013
Despite freezing temperatures spring is surely just around the corner and that will bring lots of fun to be had with outdoor remote control toys. Paramount Zone Ltd has just launched their latest such item, the awesome Water Wizard Remote Control Boat which they say is the best R/C Boat the company have every sold.
The Water Wizard has a superb speed boat design hull, and can reach a speed of over 25 kilometres per hour. It has an integrated high performance 370 type motor and has a play time of 10-15 minutes per charge. Control range is around 50 metres and it is also very fast and fully maneuverable via the included remote control. Overall, this remote control speedboat is great for anyone wanting to get into remote control… Simply launch it into the water and the fun starts as it is controlled around a local lake or pond.
There is a video clip of this boat on the Paramount Zone website, so head over there now to take a look at how this boat performs. Everything is included in the pack, including the rechargeable battery for the boat and the 9v battery for the controller.
Other latest gadgets for men launched by the company include Walkie Talkie Watches, the Solar Boost Mobile Phone Charger, and the Magnetic Balls Puzzle.
The cool watches look like a high tech watch, but actually double up as walkie walkies as well. They are tipped to be a top seller for kids, but should also be useful for adults to keep in touch, perhaps while on holiday to reduce mobile phone charges. Certainly a hot gadget to look out for in 2013.
The innovative solar phone charger (Solar Boost) can give power to your mobile phone whenever or wherever you need it. This gadget has been designed to be durable, and allow the user to enjoy a power hungry phone without ever having to worry about battery power reaching zero. The high powered 2000 MAH Li-ion battery can charge a mobile phone two times, and can hold its power for over 6 months. It's often not realised that the best solar phone charger gadgets do not actually need the sun to be shinning at the time they charge the phone, as they include an intergrated battery that can be charged when the sun shines, and then simply used when required. The Solar Boost comes with a USB charging cable to charge via a computer, and works with all popular phones including iPhones of course.
The last gadget just launched by the company is the Magnetic Cube Puzzle game which has 216 individual 5.0mm diameter rare-earth, neodymium sphere shaped magnets. These amazing spheres can be used to create an unlimited number of shapes and patterns. Paramountzone.com think this particular gadget will make an ideal executive gift idea as it is very addictive and great for stress relief.
The company have spent a lot of time on the packaging design of the latest products to ensure every item is perfect as a gift idea for Birthdays or other occasions.
About Paramount Zone Limited:
The company was founded 13 years ago by James Morris, and has had steady growth in every year of trading. All orders are dispatched from their warehouse in Horsham, and shipping is Worldwide.
Any PR queries should be directed to the PR department - Contact details are at the top of this release.