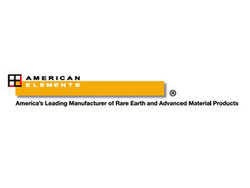 Los Angeles, CA (PRWEB) December 12, 2008
American Elements continues to timely complete all required steps under Regulation (EC) No. 1907/2006 concerning the Registration, Evaluation, Authorization and Restriction of Chemicals (REACH) to assure uninterrupted service of its products to its customers within the European Union/European Economic Area (EU/EEA).
American Elements strongly supports the policies and intent underlying REACH. American Elements has successfully completed the pre-registration of its products as of the December 1, 2008 deadline and will complete all other filing and documentation mandates, such as the preparation of technical dossiers and Chemical Safety Reports (CSR), as is necessary to achieve timely final registration of its products.
American Elements also provides REACH guidance to its customers. Further questions can be directed to our REACH Implementation Unit at: REACH at americanelements dot com or American Elements U.S. corporate headquarters at (1)310-208-0551, FAX (1)310-208-0351 or customerservice at americanelements dot com.
# # #