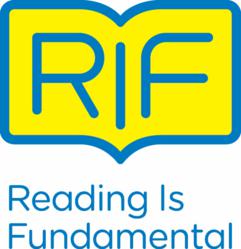 The next Mark Zuckerberg may be that 8-year-old child RIF serves whose only books are the ones we provide...
Washington, DC (PRWEB) September 12, 2012
Reading Is Fundamental (RIF) is launching a multi-year early childhood literacy campaign to inspire the next-generation of innovators through an approach integrating the arts with STEM learning (science, technology, engineering and math). The campaign is anchored by today's release of RIF's 2012-2013 Multicultural Book Collection, comprised of 40 children's books and related activities using STEAM-themes.
"The next Mark Zuckerberg may be that 8-year-old child RIF serves whose only books are the ones we provide," said Carol H. Rasco, president and CEO of RIF. "The skills today's students need to succeed as tomorrow's pioneers should start at the earliest possible opportunity with an approach that builds on their natural curiosity. As a country, we're missing the mark with few resources explicitly aimed at STEAM education for our youngest students."
Rasco added, "This initiative is about inspiring the innovators of tomorrow early with engaging books and resources that connect the dots between science, technology and the arts from broad-ranging cultural perspectives. From DaVinci to Madame C.J. Walker to Steve Jobs, our greatest innovators are those who are as creative as they are precise, as imaginative as they are methodical. STEAM-based learning aims to nurture every facet of innovation."
This year's collection will be accompanied by a set of free downloadable activities for parents and educators to engage children in literacy development, based on the Common Core Standards adopted by 45 states in the nation.
"Out of 30 developed countries, our students in the U.S. ranked 14th in reading, 17th in science literacy and 25th in math literacy. There are stark gaps here at home with low-income students scoring lowest and white and Asian students outpacing African-American, Hispanic and American-Indian students," said Rasco, detailing results from the most recent Program for International Student Assessment and the National Assessment of Education Progress reports. "Our focus on STEAM literacy ultimately supports a national priority to ensure all American students receive the skills and knowledge required for success in the 21st century workplace."
Each book in the collection was carefully reviewed and selected by RIF's Literacy Services team with guidelines provided by RIF's Literature Advisory Board and Multicultural Advisory Committee, national panels of educators and experts in books for children.
"What makes this collection unique is our insistence that each book present diverse characters and stories," Dr. Judy Cheatham, RIF's vice president of literacy services. "When children see themselves in the books they read at a young age, they are motivated to read more books and read more often. Books are powerful mirrors and windows for all of us."
RIF has distributed the collection to RIF programs across the country since 2007 as part of its Multicultural Literacy Campaign, a multi-year initiative to promote and support early childhood literacy in African-American, Hispanic and American-Indian communities.
A full list of the new collection's selected titles is available on RIF's website along with accompanying activities. This year's list includes celebrated and award-winning titles such as:

Balloons Over Broadway by Melissa Sweet
Z is for Moose by Kelly Bingham, illustrated by Paul O. Zelinsky
How Many Seeds in a Pumpkin? by Margaret McNamara, illustrated by G. Brian Karas
City Dog, Country Frog by Mo Willems, illustrated by Jon J. Muth
Grandpa's Garden by Stella Fry, illustrated by Sheila Moxley
10 Things I Can Do to Help My World by Melanie Walsh
Miss Lady Bird's Wildflowers by Kathi Appelt, illustrated by Joy Fisher Hein
Throughout the year, RIF will be distributing 650 collections to local RIF programs across the country. The donation of these book collections is made possible through generous contributions from Macy's.
"RIF is investing in this vital initiative to provide educators with the resources they need to put our youngest students on the path to becoming tomorrow's innovators," added Rasco. "To be clear, this serves far beyond the classroom. It fosters the kind of creativity, drive and determination that will ultimately create a pipeline of American workers poised to not simply compete in a global economy, but to lead."
Additional components of RIF's STEAM initiative include:

National Art Contest sponsored by Nestlé
Professional Development for Early Childhood Educators and Care Providers
Family Literacy Celebrations with Free Books for Participating Kids
Early Childhood STEAM Learning Advocacy
About RIF
Reading Is Fundamental (RIF) delivers free books and literacy resources to children and families in underserved communities in the United States. By giving children the opportunity to own a book, RIF inspires them to become lifelong readers and achieve their full potential. As the nation's largest children's literacy nonprofit, RIF has placed 400 million books in the hands of more than 35 million children since it was established in 1966. Learn more and help RIF provide books to kids who need them most, visit http://www.RIF.org.
Press Contact:
Ashley Lengen
Weber Shandwick for Reading Is Fundamental
alengen (at) webershandwick (dot) com