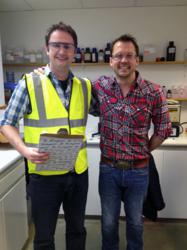 This is going to be broadcast on national television and it will be an excellent way to promote our company, showing why we're one of the leading chemical suppliers in the UK
(PRWEB UK) 1 March 2013
Food Unwrapped explores how food is manufactured, and presenters travel the world to uncover any industry secrets. From growers and producers to scientists and supermarkets, the idea behind the show is to ask as many questions as possible to find out more about the food we eat.
During the next series, one of the issues to be covered is the production of decaffeinated coffee, usually achieved with the use of methylene chloride, a chemical solvent, to extract caffeine from green coffee beans. As a leading manufacturer and supplier of methylene chloride, ReAgent was called upon to assist with the execution of some scientific experiments to explain the process used in industrial settings. Methylene chloride is an extremely corrosive chemical, and experiments like the ones portrayed on the show should not be attempted at home. Chemical analysis should only be carried out by trained professionals.
As doctors and physicians warn about excessive consumption of caffeine, many are turning to decaffeinated alternatives. The problem is the majority of the population doesn't really know how the process is achieved and the simple mention of methylene chloride is enough to stir some public indignation. With these concerns in mind, the television production company turned to ReAgent to find out how decaffeination is achieved and, more importantly, if there is any reason to be worried about dangerous chemicals present in the final brew.
In essence, Ricochet's crew were looking for Reagent's expertise with regards to handling methylene chloride and an explanation for the reactions associated with the decaffeination process. Darren Wilson, Operations Manager, was delighted to be able to help. "We've prepared some coffee beans, by soaking them in methylene chloride", he said, "this should drag most of the caffeine out of the bean and into solution".
Once the cameras were in place, presenter Jimmy Doherty was keen to find out if the overnight soaking to extract caffeine had worked. A simple way to determine the method's validity was to boil all the methylene chloride and end up with slightly brownish crystals at the bottom of the beaker. Trying the fruits of their experiments, both Jimmy and Darren tasted the caffeine residue. "It actually did have quite a caffeine kick", revealed Darren.
The discussion then focussed on the original question, regarding whether any methylene chloride residues reach the customer. In reality, this is highly unlikely and if so, it'll be in insignificant quantities, as this chemical has an extremely low boiling point, which means it cannot survive the process of roasting at high temperatures. Nevertheless, other safer and more eco-friendly methods have been developed and those were also discussed in detail.
"This is going to be broadcast on national television", said Richard Hudson, Managing Director, "and it will be an excellent way to promote our company, showing why we're one of the leading chemical suppliers in the UK, with over 35 years' experience". Even in this period of recession, ReAgent has managed to sustain its growth, thanks to the quality of the products supplied and an excellent customer care. If you're looking to buy methylene chloride or any other chemical, reagent has a vast list of products available on their website: http://www.reagent.co.uk/