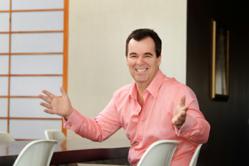 Our property investment strategies do not rely on people having to borrow debt. In fact, we are the only tool set which does not rely on people creating debt to get into home ownership
London, England (PRWEB) March 19, 2013
Real estate investment strategist, Rick Otton, has reached out to UK property investors with a radical solution to their woes, following an official announcement in late February that Britain has been stripped of its AAA credit rating by agency Moody's.
Mr Otton said he would share his non-conventional property investment strategies at a three-day ultimate real estate bootcamp for UK participants in April to help them through the negative filter-down effects of the credit rating downgrade.
"Britain's downgrade to an Aa1 rating means the UK's ability to to repay debt has deteriorated" said Mr Otton. "And the financial media is telling us that the nation's credit status is unlikely to recover for some time – even possibly extending into the second half of the decade."
Downward spiral
Mr Otton explained the impact of the downgrade on home owners, current and prospective.
"What happens is that if your risk potential goes up, say you lose your Triple A rating as in Britain's case, fewer people will want to lend you money, and if they do want to lend you money, they will charge you a higher rate of interest," he said.
"So right now Britain is in a lot of debt. Now that the country has lost its Triple A rating, it means they will need to pay more for their debt" Otton continued. "The Government has to collect extra money from somewhere. The only way for them to collect that money is to increase the taxes on the British people or to reduce the services it provides."
Mr Otton, who is renowned in the UK as the creator of "Houses for a Pound", said either of these two options would result in cost increases for business, which in turn would spiral to higher unemployment, greater dependence on welfare and more borrowing.
Zero-Debt Property Cashflow Conference
He said his property seminar would coach UK residents and homeowners to financial freedom through non-traditional ways of investing.
"As a result of the lowering of the credit rating in Britain, more people will have to sell properties they can no longer afford to hold. They'll be looking for fast, quick and efficient ways to sell and that's what our tool set of strategies provides people," Mr Otton said.
"Other people who want to get into property will find borrowing money more expensive if they want to do it the traditional way. With our tool set, we simply make it easy for home buyers to move into houses without having to borrow new debt.
"Our property investment strategies do not rely on people having to borrow debt. In fact, we are the only tool set which does not rely on people creating debt to get into home ownership."
For more information about the Zero-Debt Property Cashflow Conference 2013 (being held 19-21 April 2013), visit RickOtton.co.uk
About Rick Otton
Rick Otton has spent decades making money by snapping up inexpensive real estate and putting it to work building wealth. 2013 marks the 10th anniversary of his introducing property options to the UK as a property investment strategy.
He is the founder and CEO of We Buy Houses, which operates in the U.S., U.K., Australia and New Zealand putting his strategies to work every day.
Otton received his start in alternative real estate investment in 1991 and within a year acquired 76 properties. In the following years, he made a fortune using his low-risk, high-reward strategies to inexpensively acquire real estate.
Now, Otton shares the wealth by sharing the wisdom, teaching others how to buy and sell real estate without cutting banks and other middlemen in on the deal.
In 2008 Rick revealed his strategies in the United Kingdom and became the creator of 'Houses for a Pound'. Otton has been featured in a variety of television programs and magazines.
Details of Mr Otton's UK Zero-Debt Property Cashflow Conference are at RickOtton.co.uk