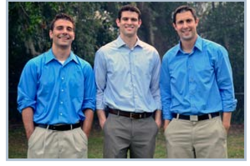 We speak with adults around the country that have busy lives and think they do not have the time or finances to own investment property.
Jacksonville, Florida (PRWEB) May 22, 2012
Real estate investing opportunities have grown to numbers never seen before in the last 30 years. According to the National Association of Realtors, short sales in cities like Jacksonville, Florida are on the rise and are expected to grow by another 9 percent in 2012. http://www.jacksonvillewealthbuilders.com has been involved with the real estate growth in Florida for the last several years and is now offering real estate investing opportunities to beginning real estate investors. A series of properties are owned free and clear by Jacksonville Wealth Builders and have signed lease tenants in place. These properties are designed to remove the legwork for beginning investors by allowing them to realize instant profits from a cash flowing property every month.
The traditional routes to buy investment property included lengthy property and title searches, attorney fees and access to personal or corporate financing. Many real estate agents have started lucrative careers by buying and selling properties. The amount of time and education required to begin a career in real estate can be a burden for mid-career adults or adults approaching retirement. "We speak with adults around the country that have busy lives and think they do not have the time or finances to own investment property," said Greg Cohen, CEO of Jacksonville Wealth Builders. "We have removed many of the classic struggles and challenges that someone faces when buying a property as an investment to earn a passive income," added Cohen.
Financing is one of the concerns that a beginning investor can have when considering the purchase of a property. Although the national price of homes have been in decline since 2008, higher down payments can be required by some banks when considering a mortgage for an investment property. Alternative financing sources are one way that a beginning investor can use to secure funding to invest in a cash flowing rental property. Self-directed IRAs offer investors the ability buy, hold or sell real estate unlike a traditional IRA. With more Baby Boomers nearing retirement, the opportunity to invest in turnkey real estate with IRA funds provides a non-traditional financing method.
Property renovations are typically required when a foreclosed or distressed property is purchased. The high number of foreclosures in states like Florida has caused many abandoned properties to have interior and exterior damage. The cost of repairing and upgrading this damage can be an added expense on top of the property purchase. A turnkey property like those now offered by Jacksonville Wealth Builders are completely renovated thereby eliminating upgrade and repair expenses to help investors earn a much faster return on their investment. 
About Jacksonville Wealth Builders
A voting of the number 3 fastest growing company in 2011 by the Jacksonville Business Journal has helped to create record growth for Jacksonville Wealth Builders. New and experienced investors from 6 countries and all 50 U.S. states have received support and training for investing in cash flowing investment properties around the Jacksonville, FL area. The experienced team of real estate experts at Jacksonville Wealth Builders has successfully purchased over 300 investment properties that are offered as turnkey solutions for serious investors getting started in Florida real estate.