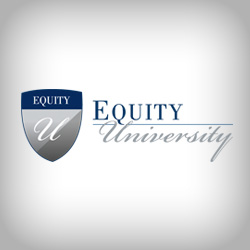 there is so much information that it can be hard to delineate between what is right and wrong, especially for those just beginning to learn about real estate IRAs
Cleveland, Ohio (PRWEB) February 05, 2013
When it comes to investing in real estate in a self-directed IRA, there is a lot of information out there. In fact, there is so much information that it can be hard to delineate between what is right and wrong, especially for those just beginning to learn about real estate IRAs.
Investors don't need to be confused any longer. Equity University presents "5 Real Estate IRA Myths Busted," a free webinar at 9 p.m. ET February 7 in which National Education Specialist John Bowens will help debunk many of the more common misconceptions around real estate and your IRA.
The webinar will cover:

Taxes and how they affect real estate purchased through your IRA
Penalties associated with rolling over funds from an existing plan into a self-directed IRA
Do you need an LLC to invest with your IRA?
Much more
The webinar is free, but registration is limited. Those who are interested can get the details and reserve a spot at: http://tinyurl.com/aubvqq5
Equity University is the educational arm of Equity Trust Company. Visit http://www.trustetc.com/equityuniversity for more information.
About Equity Trust Company
Equity Trust Company, with its corporate headquarters in Greater Cleveland, Ohio and operations in Waco, Texas and Sioux Falls, South Dakota, is at the forefront of the self-directed retirement plan industry. The Company specializes in the custody of alternative assets in self-directed IRAs, Coverdell Education Accounts, Health Savings Accounts and qualified business retirement plans. Along with its affiliates, Equity Trust Company provides services to more than 130,000 individuals and businesses nationwide with approximately $11 billion in assets under custody. Since 1974, the company and its affiliates have helped investors make tax-free profits through education, innovation, and a commitment to understanding individual needs. Visit TrustETC.com for more information.
##