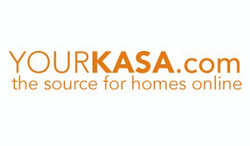 Our goal at Yourkasa is to give home buyers and sellers extra real estate marketing tools as well as features that go beyond basic home listings
Atlanta, GA (PRWEB) January 16, 2008
Yourkasa, an Internet-based real estate marketing company, now offers visitors to its website an additional advantage over other sites with real estate listings. The new feature links both buyers and sellers to qualified home mortgage lenders and real estate agents, eliminating the need for time-consuming research and queries and speeding the sales process.
In the current climate, broad real estate marketing has become essential for those looking to sell a home. And for buyers, it is critical to find just the right mortgage lender in order to take advantage of the great rates that are available. There are over 100 qualified home mortgage lenders in Yourkasa's network that buyers can connect with, and just as many real estate agents that can work with sellers.
"Our goal at Yourkasa is to give home buyers and sellers extra real estate marketing tools as well as features that go beyond basic home listings," said Neil Terc, president of Yourkasa.com. "With our unique network of real estate agents and mortgage lenders in place, visitors to our site can find answers from professionals and can talk to multiple agents all at once."
In addition, Yourkasa has recently dropped the price of its unlimited listing package for sellers to just $9.99. This "Until It Sells" package gives sellers access to Yourkasa's other unique real estate marketing tools, including maps, printable flyers, pre-written newspaper ads, and extensive listings with images and in-depth descriptions, as well as offering connections with real estate agents. Simply use the promo code SELL on checkout to take advantage of this offer. For more information, please visit http://www.yourkasa.com.
About Yourkasa.com
Yourkasa.com is a feature-rich online real estate property listing service that connects home sellers with home buyers. Packed with resources and easily navigable, the site provides sellers with the ability to market their homes to a large, targeted audience and enables potential buyers to view thousands of real estate property listings online via detailed profiles, pictures and maps. For more information, visit http://www.yourkasa.com.
###