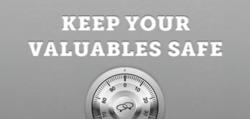 Houses for sale are easy targets for theft. Many people can easily enter the residence and walk away with items, but these steps can help eliminate the risk.
Washington, DC (PRWEB) March 23, 2013
Selling a home can be a stressful time, even without the added worry of the additional security threats a homeowner faces from having a home on the market. In fact, many homeowners may leave their home open to these threats, without realizing that having a home for sale makes it a vulnerable target to thieves and criminals.
The security experts at AlarmSystemReport.com, a site providing consumers home security alarm system reviews, put together a list of tips homeowners can follow, to avoid being a target to criminals while selling a home.
1. If a home is not already equipped with a security system, it may be a good time to find inexpensive do-it-yourself alarm system options. There are a number of options that can be added quickly and without spending a lot of money that will make a home more secure during the selling process. Many wireless home alarm systems offer components that can be added to a home for additional security, without making the big investment of installing an entire home security system. For example, a homeowner selling a house may want to add a few security cameras, rather than adding an entire system, and wireless components allow this to be done without a major monetary investment.
2. Never leave valuables out in the open. There may be valuables lying around a home that the homeowner doesn't even think about, but to a burglar posing as a potential buyer, these are tempting targets. Even if a homeowner is not expecting a showing, it may be that the realtor shows up unexpectedly, so keep valuables put away at all times when a home is on the market.
3. If possible, have a real estate agent schedule showings and appointments only during times that a member of the house will be able to be home. This may require tricky scheduling, but will allow the homeowner to monitor the situation at all times.
4. Check doors and windows after a home showing. Would-be burglars may use a home showing as an opportunity to leave windows and doors unlocked for their return, so be sure to carefully check that all potential entry points are properly latched and locked after each appointment.
5. Don't give a real estate agent the primary security system code. Many alarm systems allow for the creation of secondary codes for service people. A temporary code can be disabled after it is no longer needed.
6. Rather than offering open houses, many home sellers now opt to do appointment-only showings. This allows to realtor and homeowner to have more control over the situation and reduce security risks.
About the Company
AlarmSystemReport.com is a site offering unbiased comparisons of top home security systems, including Lifeshield security reviews and ADT security reviews.