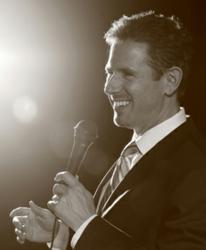 bigger goals have less competition
San Francisco, California (PRWEB) March 07, 2013
Bloomberg speaker Patrick Schwerdtfeger introduced a new Real Estate keynote program entitled "Cultivating Greatness" today, designed to motivate real estate agents to think bigger about their businesses and bigger about their lives. The program is 60 minutes long but can also be customized and tailored to compliment specific event objectives.
Patrick Schwerdtfeger developed his own proprietary social media strategy specifically for real estate agents. It's called the "real estate listing loop" and involves Facebook, YouTube, eVoice and Visual Tour, all working together to double or triple open house attendance. The Cultivating Greatness program includes a detailed description of this proprietary strategy.
"Most people have 'realistic' goals which means those realistic targets have tons of competition," explains Schwerdtfeger. "When you shoot for more ambitious goals, you're often the only one doing it. The trick is to think bigger about the role you play in other people's lives."
Corporate meeting and event planners can learn more about Patrick's Real Estate keynote program on his website and are encouraged to contact him to check availability and receive scheduling details.
About Patrick Schwerdtfeger
Patrick Schwerdtfeger (@schwerdtfeger on Twitter) is a TEDx speaker who has headlined events for Bloomberg TV, Bank of America, Comcast Cable, Research in Motion (BlackBerry), Time Warner Cable and United Healthcare among others, as well as dozens of conferences and conventions around the world. His programs focus on business trends, small business marketing and the social media revolution.
Patrick is the author of Marketing Shortcuts for the Self-Employed (2011, Wiley) as well as Webify Your Business: Internet Marketing Secrets for the Self-Employed (2009) and Make Yourself Useful: Marketing in the 21st Century (2008). He has been featured by the New York Times, LA Times, San Francisco Chronicle, CNN Money, Fortune, Bloomberg Businessweek, the Associated Press, MONEY Magazine and Forbes, among others.