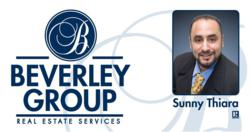 I developed relationships with banks, learning about their needs and consumer needs
San Francisco, CA (PRWEB) October 29, 2011
Beverley Group Real Estate Services, a San Leandro real estate company aims to provide top tier service and attention to their high profile clientele. The group is run by CEO and broker Sunny Thiara and under his leadership, the organization provides elite real estate services in the East Bay, primarily in San Leandro, Danville, Dublin, Pleasanton, Alamo and Castro Valley.
Sunny Thiara, or "Sunshine," the moniker many use for him, is celebrating over 15 years of experience in real estate and is known as an expert in business and a very experienced and credible Realtor. He is so good at what he does that he is being contacted by high-profile people, such as players on the Oakland Raiders, celebrities, heads of large corporations, doctors and other elite clients.
People seek out Sunny Thiara because he has worked in all aspects of the Danville real estate field for more than 15 years. He started in 1995 at California State Senate in San Diego when he was studying law. At age 24, he played a pivotal role in helping Qualcomm acquire naming rights to the stadium where the San Diego Chargers play. He worked closely with lobbyists, insurance companies, banks, and other interest groups before moving back to the Bay Area in 1997. He then worked in land acquisition, assisting in the purchase of Crescent Shopping Center in Pleasant Hill. Soon after the project was complete, his career took off with the handling of residential and commercial mortgages and real estate.
"I developed relationships with banks, learning about their needs and consumer needs, said Sunny Thiara. "This led to my success in dealing with individuals and short sales."
For more information on the Dublin real estate company, The Beverley Group and their services, give them a call at (925) 478-3456 or visit them on the web at http://www.beverleygrp.com. They are located at 1201 4th Street San Francisco CA 94158.
About the Beverley Group
The Beverley Group provides boutique Pleasanton real estate representation to businesses and individuals in the East Bay. They provide consultation to their clients on a variety of real estate matters, from short sales, bulk home sales, luxury real estate properties, and more. The Beverley Group serves the areas of San Leandro, Danville, Dublin, Pleasanton, Alamo and Tiburon/Sausalito.
###