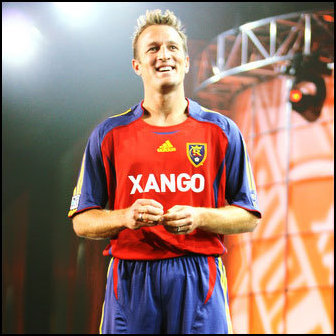 It is a wonderful milestone for RSL to be the first MLS franchise to secure a jersey-front sponsor
Salt Lake City, UT (PRWEB) November 21, 2006
Marking an unprecedented development for U.S. professional sports and Major League Soccer, XanGo, LLC and Real Salt Lake today unveiled their landmark jersey-front title sponsorship deal, the first of its kind in major-league U.S. professional team sports. Beginning with the 2007 MLS season, slated to kick off on April 7, 2007, the XanGo name will be emblazoned across the chest of Real Salt Lake's adidas/MLS game jerseys, following the European pro soccer model.
XanGo President and CEO Aaron Garrity, Real Salt Lake Owner David W. Checketts, and eight RSL players wearing the new XanGo-branded jerseys gathered onstage today at the Salt Palace Convention Center to make the historic announcement. Applause and cheers followed from nearly 10,000 attendees at the company's annual convention, known as "XanGo Revolution" in Salt Lake City.
"It is a wonderful milestone for RSL to be the first MLS franchise to secure a jersey-front sponsor," said Checketts. "XanGo is a strong supporter of professional soccer in Utah and the growth of our franchise nationally and globally," said Checketts. "XanGo's aggressive vision and innovative commitment to become the first company to sponsor a professional U.S. team sports jersey meshes well with the RSL spirit and mission. Jersey-front partners across the globe are intimately linked with the team identity and brand, representing a very personal relationship between the two organizations. XanGo's healthy lifestyle brand energy is an ideal fit, and the entire RSL organization is proud to bring the XanGo name to our field of play."
Utah-based XanGo is the recognized creator and international market leader of nutritional supplements from the mangosteen, a prized fruit from Southeast Asia.
"XanGo's pioneering commitment to Real Salt Lake and Major League Soccer represents a significant threshold in the continued growth and popularity of professional soccer in the U.S.," said MLS Commissioner Don Garber. "Major League Soccer is thrilled to have XanGo as a valued partner, and we look forward to other leading global brands aligning themselves so strongly with our teams and players."
XanGo's multi-year deal with Real Salt Lake includes signage and promotional opportunities at the team's current venue, Rice-Eccles Stadium, as well as the team's sports and entertainment venue in Sandy, slated to open July 4, 2008. Each year, Real Salt Lake's international exhibition calendar will feature the XanGo Cup, which debuted on August 12, 2006, between RSL and Real Madrid, drawing more than 45,000 fans and 250,000 television viewers domestically. Select adidas/RSL training and off-field gear will also promote the XanGo/RSL partnership.
"XanGo is honored to support Major League Soccer, Real Salt Lake, its players, and soccer fans worldwide with this jersey sponsorship," said Garrity. "We pledge to be a great, active fan to our home team, taking leadership in the prosperity of professional soccer. As Real Salt Lake competes domestically and globally, it will receive passionate support from millions of XanGo's distributors and consumers worldwide."
About Real Salt Lake
Founded on July 14, 2004, by Utah native David W. Checketts, Founder and Chairman of New York-based Sports Capital Partners, Real Salt Lake won its inaugural home game with a dramatic, 1-0 victory over rival Colorado Rapids at Rice-Eccles Stadium on April 15, 2005, and recently completed its second Major League Soccer season. A member of the League's Western Conference, RSL has enjoyed incredible fan support, averaging more than 17,000 fans over the course of 40 regular-season and exhibition home games during its first two seasons. The team is slated to open its state-of-the-art sports and entertainment venue on July 4, 2008, in the suburban Salt Lake community of Sandy, while the organization recently entered into a 10-year agreement with global soccer power Real Madrid to develop a residential academy in Utah, host Los Galacticos in even-numbered years and for Madrid to serve as the team's international preseason training home each Spring for the next decade. The latest RSL and MLS news and information can be found by visiting http://www.RealSaltLake.com.
About XanGo
XanGo, LLC is a recognized category creator as the first company to market a premium mangosteen beverage, XanGo® Juice, to consumers worldwide. A delicious daily dietary supplement, XanGo Juice harnesses the nutritional attributes of the whole mangosteen fruit through a proprietary formula. Based in Utah, XanGo is privately-owned and powered by a global network of independent distributors. XanGo's expansive operations include the United States and numerous international markets such as Japan, Australia, New Zealand, Mexico and Canada. To learn more about mangosteen juice, xanthones, and becoming a XanGo Distributor, visit http://www.xango.com.
###