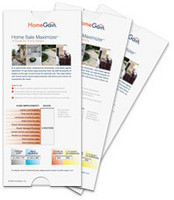 I am pleased to announce several new recent marketing initiatives.
Emeryville, CA (PRWEB) March 25, 2008
HomeGain, a leading provider of online marketing solutions that connect real estate agents and brokers with homebuyers and sellers, today announced that it has added several marketing initiatives to its programs to help drive increased results for subscribing real estate agents.
"We strive to continuously identify new ways to support our marketing programs, so that we are able to better support our customers' needs and help them achieve maximum results," said Louis Cammarosano, General Manager at HomeGain. "I am pleased to announce several new recent marketing initiatives."
*AgentEvaluator™ Launches New Silver Club*
HomeGain is expanding its AgentEvaluator frequent closer program. Currently, HomeGain has two tiers of frequent closer members - Platinum and Gold. Membership to these Clubs requires gross closed commissions of $125,000 and $75,000, respectively. Platinum and Gold Club members pay a referral fee of 22 percent of their commission from HomeGain leads resulting in closings. The regular rate is 27 percent.
On April 1, 2008 HomeGain is launching its Silver Club and will induct 275 agents. AgentEvaluator Silver Club agents must have earned total gross commissions of at least $50,000, and will be entitled to a reduced referral fee of 25 percent if their HomeGain leads result in closings.
HomeGain continues to provide information on the HomeGain Blog designed to help agents become more successful with AgentEvaluator. Several articles have been published on the HomeGain Blog that provide survey results, product tips and advice from current AgentEvaluator customers.
*BuyerLink™ Free Lead Capture Web Page Offer*
Real estate agents who subscribe to BuyerLink, HomeGain's pay-per-visit marketing program, can take advantage of a limited-time, free lead capture web page. This web page has proven to provide agents with lead capture conversion rates of an average of 12-15 percent. For information on how to purchase BuyerLink and to receive the free lead capture page, visit the BuyerLink website.
*Source4Sellers™ Direct Mailing*
Joseph Ferrara of Sellsius Real Estate Blog recently published blog articles describing how offline marketing can drive online business. Taking advice from a page in Joseph's marketing book, HomeGain recently completed a postcard mailing for Home Sale Maximizer™, an online home seller tool and guide.
Using Home Sale Maximizer, homeowners can quickly determine which repairs will increase their home's value, and then get a free, instant, online home value estimate and connect with a Source4Sellers real estate agent.
This month, HomeGain also began offering a print-version Home Sale Maximizer™ guide (pictured above) to real estate agents to help their home sellers prepare their homes for sale. Visit the Home Sale Maximizer guide request website to request a package of free guides for your real estate office.
About HomeGain
HomeGain® is a leading provider of online marketing solutions that connect real estate agents and brokers with home buyers and sellers. HomeGain offers free services to find and compare real estate agents, research home values, and view homes for sale. Realtors use HomeGain's real estate marketing programs to connect to consumers, promote their services and grow their business. A subsidiary of Classified Ventures, HomeGain receives an average of over five million website visits per month. HomeGain is your real estate connection.
About Classified Ventures
Classified Ventures™ is a strategic joint venture among five media companies, including Belo Corp. (NYSE:BLC), Gannett Co. Inc. (NYSE:GCI), The McClatchy Co. (NYSE:MNI), Tribune Co. (NYSE:TRB) and The Washington Post Co. (NYSE:WPO), whose objectives are to collectively capitalize on the revenue growth in the online advertising categories of automotive, real estate and rentals. To execute on its objectives, Classified Ventures has four leading businesses: Apartments.com, Cars.com, HomeGain and Homescape.
###