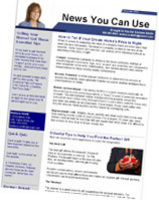 Realtors write and tell me how much they love their newsletter, how much their clients enjoy receiving it and, most importantly, how much extra business they are getting because of their newsletter
Toronto, ON (PRWEB) November 19, 2008
Real estate agents can now easily send a regular newsletter to clients and prospects by email, thanks to a new service launched this week.
Ready to Go Newsletters, which has helped hundreds of Realtors build relationships with clients using print newsletters, is now offering an email service, which real estate agents can try for free.
"My print real estate newsletter service has been enormously successful," says Simon Payn, of Ready to Go Newsletters.
"Realtors write and tell me how much they love their newsletter, how much their clients enjoy receiving it and, most importantly, how much extra business they are getting because of their newsletter," says Payn.
++ New Real Estate Email Newsletter Service ++
But until now, Payn hasn't offered a comparable service for email real estate newsletters.
That changes this week with the launch of Ready to Go Newsletters' email service.
The real estate newsletter provider has partnered with leading email delivery specialist Vertical Response to provide an easy way for real estate agents to send email newsletters to their clients and prospects.
Payn says Realtors can now send an attractive and effective real estate e-newsletter in as little as 15 minutes.
The new service includes:

An attractive HTML newsletter template complete with interesting and useful content that readers love.
An easy way to edit that content using a "what you see is what you get" editor.
Ability to upload and manage mailing lists.
Statistics that allow real estate agents to see how many emails were opened and which links were clicked on.
"Engagement devices" that encourage homeowners to contact their Realtor. These help real estate agents assess the effectiveness of their marketing and help build relationships with clients.
Free help setting the newsletter up the first time.
An easy way to comply with anti-spam laws.
++ Tips for Email Real Estate Newsletters ++
Payn says many real estate agents make mistakes when sending newsletters by email. He offers the following tips to Realtors who want to keep in touch with clients electronically:

Only send email newsletters to people who have agreed to receive them. If you send unsolicited email newsletters, you not only run the risk of breaking anti-spam laws but you also damage your reputation.
Make sure your email is designed so that it is readable in the maximum number of email reading programs, such as Outlook, Yahoo and Hotmail.
Send a text version as well as an HTML version so that your newsletter can be read by people who cannot or don't want to read HTML emails.
Make sure there is a link in each email that allows readers to unsubscribe easily.
Send your newsletter frequently - at least monthly. Don't give up on your newsletter program too easily - results can come after several months.
Use a specialist email sending company to ensure the best results - otherwise your email newsletters might not be readable on your clients' computers or might not get delivered at all.
Include some personal, local information in your newsletter. If you are using an off-the-shelf newsletter, make sure you can customize it to include your own articles.
Make sure your newsletter contains valuable content - make it something that people look forward to receiving. If a homeowner asks when your next newsletter is to be published, you know you are on the right track.
In your marketing materials, stress how much valuable information your newsletter contains. It's not enough to just say "sign up for my newsletter".
Use some "bait" to encourage people to sign up to receive your newsletter. A free report, for example, that helps people get the best price for their home in the current market will attract more people to contact you to receive this valuable information.
++ Try the Newsletter for Free ++
Ready to Go Newsletters is offering a free one-month "test drive" of its real estate newsletters so Realtors can find out if this is the right product for them.
Real estate agents can choose the email version, the print version or they can save by receiving both print and email newsletters.
For more information, visit http://www.readytogonewsletters.com
###