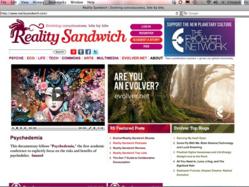 We're living in a time of great transformation, and no publication charts this change-where it matters most-better than Reality Sandwich.

-John Perkins, Bestselling Author
NY, New York (PRWEB) June 03, 2013
Reality Sandwich is an online portal that documents the consciousness community as it grows into a movement. The name "Reality Sandwich" is borrowed from a work by the Beat poet Allen Ginsberg and it is a prime example of his use of startling verbal juxtapositions to suggest new ideas and connections.
With the rapid advances in technology, and the explosive growth of the culture that they cover, Reality Sandwich is being challenged. To stay out front, to keep innovating, and to serve their subscribers best, they have decided to up their game and create Reality Sandwich 2.0. As the consciousness community grows Reality Sandwich needs to grow with it to stay one step ahead. And supporters can visit http://kck.st/19kDR1j to help them make this shift.
The writers on Reality Sandwich are some of the most insightful and inspiring visionaries of our time. Among them are: Rupert Sheldrake, Starhawk, Alex Grey, Charles Eisenstein, Jeremy Narby, Erik Davis, Stanislav Grof, Graham Hancock and Daniel Pinchbeck to name a few. Reality Sandwich has never played to an audience. Rather, they serve the community they belong to by innovating ways to engage people in the creation of this emerging culture. The 50 grassroots groups that meet monthly – the Spores – are true community hubs where transformational culture takes root.
Aligned with its name, Reality Sandwich has developed to become much more than a traditional online magazine. Their social network, Evolver.net facilitates connections between the members of our international community. As their articles present visionary ideas and new tools for sustainable living, Evolver supports Reality Sandwich's members in using these new concepts and techniques in their own lives, as well as facilitating discussions about their own journeys of discovery.
In the past Reality Sandwich covered articles that were considered to be on the "far out fringe." Subjects like shamanism, non-local consciousness, visionary art, alternative economics, psychedelics, permaculture, transformational festivals, near death experiences, and tantra, to name but a few. Now the rest of the world is realizing that these topics are relevant to our changing world.
Together, these topics are the heart of a vibrant new transformational culture that's addressing the social, spiritual, and ecological crises of our time. The Reality Sandwich web magazine brings these streams together, publishing new articles and news stories every weekday – more than 5,000 to date. 140,000 people visit each month to take part in the genesis of this new culture.
Keyframe-Entertainment has partnered with Reality Sandwich as the music director of the Evolver EDM section of the new proposed website. In their mission to create global positive change, this relationship will also support the goal to remain current with the growth of the consciousness community and Transformational Festival culture.
About Reality Sandwich
Reality Sandwich is a web magazine for this time of intense transformation. Their subjects run the gamut from sustainability to shamanism, alternate realities to alternative energy, remixing media to re-imagining community, holistic healing techniques to the promise and perils of new technologies. You can keep up with Reality Sandwich at realitysandwich.com.
About Keyframe-Entertainment
Keyframe-Entertainment bridges underground Electronic Dance Music (EDM) culture & the mainstream through transformational media (Film, Music, Visionary Art, Community Building, Social Networking, and Events). Their goal is to create global positive change and enhance the living experience by inspiring, informing and entertaining. Visit Keyframe at http://www.keyframe-entertainment.com