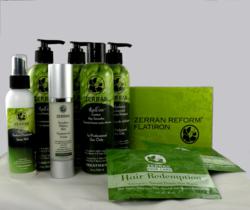 Grant Samples, Zerran director of distributor operations notes, "Premiere Orlando is considered a gateway show for the Latin American audience and an attractive destination for European buyers. Global distribution interest in Zerran is building steadily."
Los Angeles, CA (PRWEB) May 24, 2012
Zerran International continues to broaden awareness of RealLisse®, the world's first 100 percent vegan semi-permanent hair smoothing system, making it the prime focus at Premiere Orlando from June 2 - 4, 2012, held at Orlando Orange County Convention Center West Complex in Orlando, Fla. Visit Zerran International at Booth #2683 on Sun. 8:30A - 6:30P and Mon. 9A-5P.
On the eve of the show, Zerran director of distributor operations Grant Samples announces the addition of a new distributor for Western Canada. Alliance Beauty Company, headquartered in Victoria, British Columbia, will offer the full Zerran line to salons beginning with the provinces of British Columbia and Alberta. Duane Lobson, founder/director of Alliance Beauty Company says, "We think the Zerran brand is a neat and compact line. The products offer great potential for rapid growth, especially the two systems for semi permanent smoothing and permanent straightening."
Samples remarked, "Health Canada simply won't permit certain professional hair smoothing solutions products to be sold in country because they exceed specific formaldehyde levels. This makes our Zerran RealLisse system a great safe alternative for Canadian stylists. For consumers, they benefit from visibly reduced frizz and can spend less time on their hair. More importantly, after a RealLisse treatment, consumers can opt to wear hair naturally with a softer curl or style it smooth with a simple blow-dry. Isn't that what fashion is all about?" Premiere Orlando is considered a gateway show for the Latin America audience and an attractive destination for European buyers. Samples notes that global distribution interest in Zerran is building steadily.
Indeed, the Professional Beauty Association's Salon/Spa Performance Index (SSPI) for Q4 2011 increased for the first time in three quarters, ending up 1.0 percent from Q3 2011. This quarterly composite index tracks the health and outlook for the U.S. salon/spa industry - based on responses from American salon/spa owners.
On the international front, beauty product sales in Latin America are roughly 15 percent of the worldwide market, estimated at USD $54 billion in 2010. According to data from the Chamber of Latin American Cosmetics Industry (CASIC), Brazil owns a 37.3 percent share of this market for permanents and straighteners. In 2010, its overall hair care market sales exceeded USD $6.1 billion. Overall, Zerran believes the Latin America market is an important part of future opportunities. Thus, Premiere Orlando is a well-situated venue to continue educating stylists about the innovations that distinguish Zerran from its hair re-texturizing competitors.
Zerran educators will conduct ongoing live model demos during show hours. "Because RealLisse® does not produce any toxic fumes or odors that could be harmful to exhibitors and attendees, our demos can easily be conducted safely and with integrity on the convention show floor," notes Zerran marketing director Cindy Van Steelandt.
But consumers don't live by safety alone. According to a recent Harpers Bazaar article on 2012 Spring Hair Trends, the season is defined by minimalism, natural beauty and easy elegance. Classic American glamour is having a big moment with polished ponytails, graceful braids, and bouncy blowouts. But nothing too perfect or impeccable-deconstructed waves and undone knots and twists are proving that having a bit of an edge is as chic as ever.
"Getting these stylish looks requires hair that is healthy, sleek and manageable," Van Steelandt notes. "Anyone who wants to eliminate frizz and receive the advantage of semi-permanent smoothing will benefit from RealLisse. What consumers gain is the freedom to style their hair any way they want and save time while they're doing it."
# # #
About RealLisse® Vegan Hair Smoothing System
A revolutionary Catalyst introduces vegan proteins from wheat, corn and oats to the hair shaft. The heat-activated formula eliminates frizz and reduces unwanted curl and unruly volume. A flat iron developed to Zerran specifications, meeting the 450°F heat standard, is essential for superior results. Some attributes include: pH balanced, no masks or scalp balms required, no special venting system needed, no irritating fumes and no harsh chemicals. Average treatment time is 90 minutes and hair may be washed 24 hours following treatment. Hair will have natural body, movement and be responsive to thermal curling. Treatment effects will last from 2 - 4 months, depending upon client variables.
http://www.zerran.com/services/ServiceView/reallisse
About Zerran International
Zerran International Corporation is a privately owned manufacturer and global distributor of Zerran Hair Care products for the professional salon industry. Based on intensive scientific research and centuries-old botanical tradition, the company has formulated and delivered 100 percent vegan shampoos, conditioners and styling products utilizing renewable botanical extracts and essential oils since 1986. Zerran International Corporation is headquartered in Los Angeles, California. For more information, go to http://www.zerran.com or visit Booth #2683 during Premiere Orlando at the Orlando Orange Convention Center West Complex, 9800 International Drive, Orlando, FL 32819. Contact: Cindy Van Steelandt, marketing director. Call 800-626-1921 or email cindyv@zerranhaircare.com.
Website: http://www.zerran.com
Twitter: @zerranhaircare
Facebook: facebook.com/ZerranIntlHaircare
About Alliance Beauty
Alliance Beauty Company is a professional beauty products distributor with retail outlets serving the provinces of British Columbia and Alberta, Canada. From its origins as a one person, one line business on Vancouver Island, Alliance Beauty today comprises two retail storefronts, a warehouse, 14 employees, and 16 lines. Alliance Beauty is committed to salons and supporting students seeking a vocational education in beauty. Company headquarters are located in Victoria, British Columbia.
Website: http://www.alliance-beauty.com
About Premiere Orlando
Premiere Orlando is rated the largest beauty industry event in the United States by Tradeshow Week magazine and an exclusive member of the World Beauty Show Alliance (WBSA). The show attracts over 50,300 attendees from all 50 states and international attendance from over 14 countries. Premiere Orlando assembles the top names in beauty to provide the industry's highest rated educational program for hair, nail, dayspa and business operation, offering everything from basic to advanced classes for salons and spas.
Website: http://www.premiereorlandoshow.biz