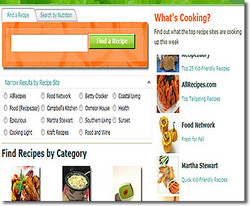 foodGizmo offers a variety of features, including Multi-Site Recipe Search, Ingredient Search, Nutritional Search, Recipe Comparison, Online Recipe Boxes, Online Meal Planners, and Grocery Lists. It's the most comprehensive recipe search tool out there.
Denver, CO (PRWEB) November 9, 2010
Denver-based foodGizmo, LLC, has launched a free website, simplifying the way people find and manage their online recipes. For the first time, using foodGizmo's recipe search engine, users are able to simultaneously search from dozens of the top recipe sites, including Allrecipes.com, FoodNetwork.com, Food.com, Epicurious.com, CampbellsKitchen.com, MarthaStewart.com, and Allrecipes.com.
Today, especially in the present economy, more people are cooking at home and using the internet to find recipes. Traditionally, they have had to perform multiple searches on each of the individual sites. But, these recipe websites don't allow users to narrow their searches and they generally don't provide anything more than the recipe. foodGizmo has created an aggregated search engine that finds recipes from all the well-known recipe search sites, while also introducing a variety of helpful functions or "gizmos".
Utilizing a number of unique applications, foodGizmo is designed to assist users in finding more recipes faster and more efficiently. Going beyond the basic search filters of recipe source, rating, preparation time, and cooking time, foodGizmo has added additional filters that include:

Ingredient Search: Users can enter up to 3 items they have in their pantry and find recipes that meet their needs from across multiple websites.
Nutrition Search: Users can search for recipes by calories, low-fat, low-carb, as well as, Gluten Free and Dairy Free recipes.
Online Recipe Boxes: Users can store their recipes and also share them with friends.
Online Meal Planner: Helps users plan and organize their meals for the day, week or month.
Grocery List: Members can quickly and easily create grocery lists from the recipes they find on foodGizmo.
foodGizmo is the result of a conversation between four people who, not surprisingly, love to cook, but love to eat even more. "It was right before Thanksgiving, 2007," recalls DaSandra Duncan, foodGizmo's co-founder and CEO. "I spent hours looking for a stuffing recipe that I'd made the year before. I searched all the common food sites and all the recipe boxes that I had created on all the different sites, but, I couldn't find it anywhere." Talking to the three people who would eventually become her partners, they realized they had all encountered similar problems and brainstormed about how much easier it would be if there was a single site that would search all the sites for them. Plus, they wanted to have a centralized recipe box to store the recipes from all the different sites. Thus, the concept for foodGizmo was born.
About foodGizmo
foodGizmo is a recipe search engine that simplifies the process of searching for, organizing, managing and sharing food recipes. It offers a variety of features, including Multi-Site Recipe Search, Ingredient Search, Nutritional Search, Recipe Comparison, Online Recipe Boxes, Online Meal Planners, and Grocery Lists.
In 2007, four people who share a passion for cooking were discussing their Thanksgiving menus and the hassle of remembering where they had stored their favorite turkey or cranberry sauce recipe. Plus, if they were lucky enough to actually locate these recipes, they still had to print them, organize them, create a menu and compile a grocery list. They decided that a solution to the "where is my recipe" dilemma needed to be developed and the ideas began to flow.
They began asking themselves, what do cooks want and need? What would make cooking easier for people of all cooking levels? What if people could simultaneously search the top recipe sites? Why not also provide other features, or "gizmos," allowing people to compare recipes, store favorite recipes, plan menus, create grocery lists and more? As luck would have it, this was a group who not only loved to cook, but also had considerable information technology experience. From this, sprang the 4 Gizmos, a.k.a. the 4G's, and foodGizmo. For more information, visit http://www.foodgizmo.com.
###