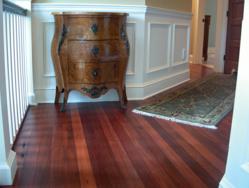 When we think about where this wood comes from, the extreme durability and fantastic color, we know it will enhance any design in residential or commercial settings
Farmington, NY (PRWEB) March 01, 2013
Salvaged from dilapidated Australian offices and educational buildings, Pioneer Millworks will offer Karri as flooring, board stock, paneling, and more. Having sold out of the popular hardwood Jarrah, reclaimed from Australian woolen mills, Pioneer Millworks has sourced Karri as a similar, and equally desirable product. Similar to Jarrah, Karri offers exceptional durability, rich color, and fine grain details.
"We're excited to add this to our eco-friendly reclaimed products, to be able to offer folks interested in Jarrah a well matched alternative," says Jered Slusser, wood expert at Pioneer Millworks. "When we stop and think about where this wood comes from, how rare the species is, the extreme durability, and fantastic color, we're confident it will enhance any design style in residential or commercial applications."
Karri has the look of rainforest-grown Mahogany without the negative environmental impact. A strong, dense wood with a rich grain and fine details, Karri in Pioneer Millworks' Fair Dinkum grade has a very uniform light reddish color with pink undertones and limited character marks. Unlike other species, face width is limited to 3" due to the raw material it is milled it from. Lengths will vary from 2' to 12'. Reaching 2,300 on the Janka hardness scale, Karri offers tight interlocking grain easily enduring high traffic in heavily used areas such as kitchens, family rooms, and retail spaces. Karri will be the featured product in Pioneer Millworks booth #1070 at the ICFF tradeshow in May.
Native to Australia, only a limited portion of the forests on the western side of the continent has this species making it as rare as Chestnut is to the USA. Noted for its stability, the majority of the incoming Karri stock was salvaged from a high school where it was originally used for the roof framing structure. Over 20,000 board feet of the exotic hardwood will be incorporated with an existing, limited test run of 3" Karri flooring, crafted into paneling, and provided as board stock. Orders placed now will be ready to ship in late April, 2013.
Pioneer Millworks is the leader in the reclaimed wood industry. To date, they've rescued nearly 22 million board feet of old wood from rot and landfills, giving it new life as flooring, millwork, cabinetry, and more. All manufactured in the USA from New York and Oregon — in a way that's healthy for customers, employees, and the environment. Pioneer Millworks is FSC certified and Green America approved. All of their products are LEED point eligible.