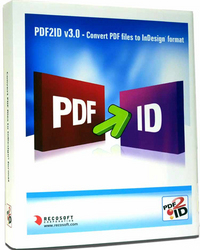 PDF2ID is a must have tool for any InDesign user who needs to convert PDFs into native InDesign documents says Chris Kitchener, Product Manager, Adobe® InDesign. There's simply no other solution like it in the market today.
Osaka, Japan (PRWEB) September 9, 2010 –
Recosoft is proud to announce it has started shipping PDF2ID v3.0®, the latest version of its PDF converter tool for Macintosh and Windows platforms, which converts PDF files to InDesign® documents.
PDF2ID v3.0 incorporates over 150+ new features/enhancements and has been designed to operate seamlessly with Adobe® InDesign® CS3/CS4/CS5.
Furthermore, PDF2ID v3.0 enables the conversion of variable page size PDFs to variable page size InDesign documents and contains new options to control how graphics objects are processed.
Finally, PDF2ID v3.0 intelligently identifies text frame wrapping around graphics objects ensuing in better layout accuracy in the resulting InDesign file.
PDF2ID, the only PDF converter available for InDesign, offers a direct, transparent and effortless process in converting PDF files to InDesign documents. PDF2ID eliminates the necessity to acquire and install additional PDF data recovery tools, resulting in enhanced workflow automation and providing huge cost savings.
Key New Features:

Integration with InDesign CS5
PDF2ID has been enhanced to operate and function with InDesign CS5.
PDFs that contain variable page sizes are now converted to InDesign documents with variable page sizes.
Frames Linking Across Pages
Frames linking across pages have been introduced allowing frames that are considered continuous across pages to be linked automatically.
Separation of Text, Graphics and Tables into distinct layers
Separate layers for Text, Tables and Graphics are automatically created generating an InDesign document that is easier to manage and edit.
New Graphics Options panel
A new Graphics Options panel has been introduced, which provides complete control over how vector graphics and images should be processed.
Interactive PDF properties
PDF Bookmarks, URLs and Transitions are processed and converted to the appropriate InDesign property and type.
PDF2ID v3.0 is available immediately from the Recosoft web store in the following configurations:
PDF2ID Standard v3.0 US$299.00
PDF2ID Professional v3.0 US$399.00
PDF2ID Standard v3.0 Upgrade US$129.00
(for PDF2ID v1.x/2.x licensees)
PDF2ID Professional v3.0 Upgrade US$159.00
(for PDF2ID v1.x/2.x licensees)
Customers who have purchased PDF2ID v2.x licenses on/after August 1, 2010 are entitled to a free upgrade to PDF2ID v3.0.
About Recosoft Corporation
Recosoft Corporation is the developer of PDF2Office®, the de-facto PDF-to-Excel, PDF-to-Word, PDF-to-PowerPoint conversion utility; PDF2Office® for iWork, the only PDF-to-Keynote and PDF-to-Pages conversion application; and PDF2ID® the PDF-to-InDesign conversion tool. The company is a leader in designing and delivering PDF converters and PDF file conversion software solutions enhancing workflow automation and productivity. For more information on Recosoft PDF converters, visit
URL: http://www.recosoft.com/.
PDF2Office, PDF2ID, PDFtoID are trademarks or registered trademarks of Recosoft Corporation in the United States and/or other countries. Microsoft, Excel, PowerPoint, Word and the Office logo are trademarks or registered trademarks of Microsoft Corporation in the United States and/or other countries. Adobe and InDesign are either registered trademarks or trademarks of Adobe System Incorporated in the United States and/or other countries. Apple, Macintosh, Mac, the Mac logo, Keynote, Pages, iWork are either trademarks or registered trademarks of Apple, Inc. in the United States and or other countries. All other trademarks are recognized and are the property of their respective owners.
# # #