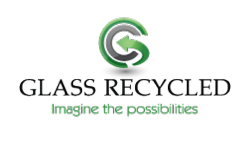 It is a real treat to be joining the Design District of Dallas. Being centrally located in Dallas is a dream of GLASS RECYCLED's team!
Dallas, TX (PRWEB) September 29, 2012
GLASS RECYCLED is merging its showroom and production facility into one location in the Dallas Texas design district. The new GLASS RECYCLED Corporate Facility and Showroom located at 2939 Irving Boulevard, Suite 305, Dallas, TX 75247. The new location near the Dallas Design District will facilitate more production tours and product application displays. With the office staff and management and production crews in one facility processes will be streamlined and more efficient.
GLASS RECYCLED Marketing and Communications Director, Marie Bodnar, says, "The new GLASS RECYCLED show room is much bigger than our last and allows us to display several unique pieces. With the staff at hand and the production by our side we can offer a more personal and interactive experience for all designers and architects that may come through. It is a real treat to be joining the Design District of Dallas. Being centrally located in Dallas is a dream of GLASS RECYCLED's team! Our new showroom in Dallas will add a little 'green flare" to the design district of Dallas and help influence designers to go green!"
GLASS RECYCLED will also continue the "That's SUM-FALL Event" until December 20, 2012 featuring GlassSLAB recycled glass countertops with a discounted and simplified pricing structure that includes either local pickup at their new facility or delivery to the continental USA. This promotion applies to any of GLASS RECYCLED's over 250 designer sample codes in the online recycled glass countertop sample gallery. A minimum of 48 sq. feet is required per order. Pricing for orders to be picked up at the GLASS RECYCLED warehouse is $48 per sq. foot while shipped orders to be delivered to a fabricator anywhere in the continental USA are $58 per sq. foot. The promotion begins on August 1, 2012 and runs through December 20, 2012. Orders may be placed directly online or by phone with a 50% down payment. Full payment is required prior to pickup or delivery.
GLASS RECYCLED offers stunning, sophisticated and TOTALLY CUSTOM options for custom countertops, kitchen backsplash ideas, flooring, walls, and landscape detailing and specialty decor items. Using their patented process of recycling glass and porcelain combined with limitless colors of epoxy accents, they produce a final product that is beautiful, durable and environmentally friendly. For more information or to become involved with GLASS RECYCLED visit their designer showcase at GLASSRECYCLED.com where you can browse product specifications, view finished installation photos, product samples and access direct contact information.