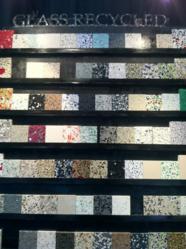 Designers are excited by the idea of working with a sustainable, recycled material with unlimited customization possibilities
Dallas, TX (PRWEB) August 23, 2012
GLASS RECYCLED excites designers at Metrocon Dallas 2012 exhibiting their recycled glass countertops and recycled glass terrazzo flooring. Metrocon conferencegoers were abuzz over the new recycled glass terrazzo designs on display. A large array of samples covering options from the preferred sample gallery was on display for designers to touch and examine up close.
GLASS RECYCLED's recycled glass products are created by combining GlassEPOKY, a safe, non-voc epoxy resin available in several preferred colors or color matched to Benjamin Moore or Sherwin Williams paint colors, along with GlassSCAPE recycled glass aggregate. GlassSCAPE is available in a wide array of colors including GlassAMBER, GlassORANGE, GlassRED, GlassBLUE, GlassGREEN, GlassOLIVE, GlassPLATE, GlassMIRROR, GlassCLEAR, GlassBROWN as well as GlassMODE recycled porcelain and GlassLume recycled metal shavings to create an endless array of possible designs.
Founder of GLASS RECYCLED, Tim Whaley, says, "Metrocon gave us a chance to exhibit in Dallas and the response was overwhelmingly positive. Designers are excited by the idea of working with a sustainable, recycled material with unlimited customization possibilities. Designers can create a virtually limitless number of designs by combining our color matched GlassEPOXY resin along with out different GlassSCAPE colors and sizes.".
Metrocon is a design related regional expo/conference formed from a collaboration between the ASID(American Society of Interior Designers) and IIDA(International Interior Design Association)
GLASS RECYCLED manufactures recycled glass products including GlassSLAB for kitchen countertops, GlassPLANK for recycled glass floors, GlassDECOR recycled galss tabletops and GlassSCAPE recycled glass aggregate.