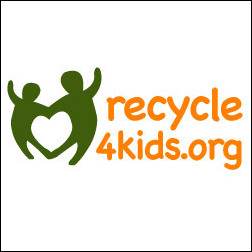 One Cartridge Can Make a Difference
Bell, CA (PRWEB) June 12, 2007
In response to over 350 million empty inkjet and toner cartridges disposed in our landfills every year, Recycle4kids.org has launched a unique recycling-fundraising program. This program allows everyone to participate - individuals, schools, religious organizations, retailers, and corporate offices - by collecting and recycling their empty inkjet and toner cartridges. Aside from being environment friendly, the program generates monetary proceeds to fund children's charities.
Recycle4kids.org believes that no contribution is too small, every effort counts. As the slogan goes, "One Cartridge Can Make a Difference".
Participants can easily log in to the web site, http://www.recycle4kids.org and order collection bins, print return labels, download marketing materials, and check the latest update regarding the environment and charities that they support. All marketing materials are well-thought out and designed with the participants needs in mind. A list of empty inkjet and toner cartridges qualified for reuse and its corresponding value is provided in the web site. The value of an empty cartridge ranges between $.10 to $14.00 each depending on its make and model. The program in its entirety entails no fees of any kind to participate. All necessary materials and shipping are provided at no-cost. Upon receipt of these cartridges, they will be sorted out, rinsed, examined in our warehouse, and shipped to different manufacturers for reuse.
The simple process of recycling produces a beneficial domino effect in our environment. There will be less pressure on the usage of virgin materials from forest and mineral resources. More forest means more trees and preserved habitat for wildlife. More trees mean greater absorption capacity of pollutants emitted by factories and vehicles into the atmosphere. Less energy used in manufacturing results in less pollution and a cleaner environment. Thus, the effortless process of recycling generates massive environmental impact.
For additional information and more details of the program, you may visit http://www.recycle4kids.org
About Recycle4kids.org - Recycle4kids.org is a company that promotes recycling as a way of life. It focuses on collecting empty inkjet and toner cartridges for reuse. Recycle4kids.org came up with this unique fund-raising program which will help elevate interest for people to recycle and fund different children charities across the globe. Each cartridge received has a corresponding monetary value, and the accumulated funds will be given to the children's charity selected by the participant. All participants of the program will be supplied with a wide array of marketing and collection materials at no cost.
###