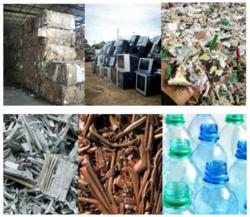 Solutions for a Healthy Planet
Mansfield, Massachusetts (PRWEB) March 19, 2013
Miller Recycling Corporation is a family owned business in operation since 1940. They have expanded their recycling services to provide customers with an "All Inclusive" service for recycling, shredding, and waste disposal needs. With a processing facility located in Mansfield MA and a NAID "AAA" Certified shredding facility in Plainville MA, you can now combine services.
"Everyone is looking to minimize their waste and get the most "profit" on all recyclable materials. Also, with the increase in privacy laws regarding personal information, and the concern for protection of all types of confidential documentation, demand for shredding has increased dramatically," said Mr. Miller, company President.
"We are able to assist with cost effective recycling of metals, plastics, cardboard, paper, and electronics, as well as document destruction. Scheduling, servicing, documenting, reporting, and management of invoicing can be costly and confusing when dealing with a number of various vendors for multiple services. We are able to streamline this process and help companies reduce their environmental management expenses," said Mr. Miller.
Miller Recycling Corporation owns and operates a high capacity processing facility, equipped with vehicle scales, baling systems, loading docks and full rail car siding. They also have their own fleet and over two hundred tractor trailers, compactors, and 15, 20, 30 & 40 yard open top containers, and provide and install recycling equipment (balers, conveyors, air systems.). They also own and operate their own NAID "AAA" certified secure document and product destruction facility.
Miller recycling has a professional management team that has the necessary industry experience to properly provide customers with the proposal they desire. From marketing, brokerage, and transportation, to equipment design and installation, Miller Recycling is the choice for overall service. They recently added electronics recycling, Freon unit recovery and recycling, and white goods recycling to their list of services. Call 1-800-783-6766 ext.111 for more information.
The recycling market is expanding and we all want to lower our carbon foot print. Find out how – and some of the steps Miller Recycling has taken, including reducing their electric demand by close to 90% at http://millerrecycling.com/blog/
About Miller Recycling Corporation
Operating since 1940, Miller Recycling is a third generation company with the experience required to assist with all, paper, plastics, metals, and electronics recycling requirements. Northeast Data Destruction is our NAID "AAA" Certified confidential shredding division.