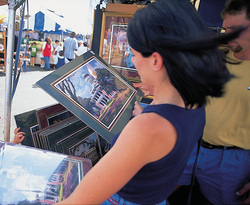 The featured attraction at the Revel is the variety of art on display and for sale by more than one hundred juried artists. It's the perfect place to find unique jewelry, paintings, acrylics, clothing, pottery, photography, wood work and much more.
Shreveport, LA (Vocus) September 30, 2010
Shreveport-Bossier, La. (Vocus) September 30, 2010 -- For 35 years the Red River Revel Arts Festival has attracted thousands of people who love art, food, music, and fun. This year's event will take place Saturday, Oct. 2-Saturday, Oct. 9. This eight-day festival is held at downtown Shreveport's Festival Plaza on the banks of the Red River.
The featured attraction at the Revel is the variety of art on display and for sale by more than one hundred juried artists. It's the perfect place to find unique jewelry, paintings, acrylics, clothing, pottery, photography, wood work and much more. This year will offer 40 new artists.
Another popular activity at the Revel is eating! Many festival-goers count down to the event in anticipation of eating their Revel favorites, most of which are prepared by local non-profit organizations. From the Muffaletta pizza and turkey legs to the Italian ice and funnel cakes, there are many Revel foods you just can't do without!
This year the 50-foot Ferris Wheel is back and will be in a new location overlooking the Children's Arts Education Area and the Red River. Children's events include Artist for a Day, "Twister" Tot Tent, Architecture Alive, Salto Trampoline and the Rock Climb. Bring the kids out for a full day of fun.
Raising the bar in local entertainment without the expected, high-priced concert ticket, Revel 35 is offering really hot entertainment. For the price of a regular Revel admission ticket you can enjoy as many of the evening's concerts as you like. Plus, Revelers can enjoy local bands and regional Revel favorites throughout the eight-day festival. Remember, the eight-day Reveler Pass allows unlimited admission throughout the festival for one low price.
Scheduled entertainment includes:
Steel Magnolia, October 2, CHASE Stage
Steel Magnolia is country music's hottest new duo. Meghan Linsey and Joshua Scott Jones proved to be a winning combination in winning CMT's "Can You Duet?" Their first single -- the Top 5 hit, "Keep On Lovin' You," -- introduced country radio to the duo's fresh sound, earning them two 2010 Academy of Country Music Award Nominations, as well as two 2010 CMT Music Award Nominations a mere eight months after launching onto the music scene. "Our voices blend uniquely," Josh says of the Steel Magnolia sound. "Meghan has more of a low end and my voice is kind of in a little higher register, which normally isn't the case with a male/female duo. It's usually the other way around. So it's a weird blend, but it works. It's country with our own edge."
Sister Hazel, October 9, CHASE Stage
Sister Hazel began when Ken Block started playing with Drew Copeland around Gainesville in the early '90s. They added Jett Beres on bass, guitarist Ryan Newell and drummer Mark Trojanowski. The band struck gold with their chart-topping hit, "All For You." Over the years the band has sold more than two million albums and had six top 30 singles; they earned a platinum disc with 1997's "Somewhere More Familiar" and gold with 2000's "Fortress". "We're getting to live a dream," Copeland proclaims. "As kids, we grew up thinking, 'Man, one day I am going to be a rock star!' and man, we are getting to do that. And we don't take that for granted." Their latest album, "Release," debuted on Billboard's Top 200 Albums Chart at #37, the highest chart number ever attained by any of the band's albums on that chart. "Release" also hit #3 on the Billboard Indie Chart and #14 on the Billboard Digital Album Chart. On release day, the album went all the way to #1 on the iTunes Rock Chart and #7 on the overall iTunes sales chart.
The Hunt Family, October 2, CHASE Stage
The Hunt Family is a cross between World Ranked Step Dancers and Champion Fiddlers. They are a family of nine that brings a high-powered energetic and refreshing experience to the stage. They perform original, Celtic, bluegrass, inspirational and popular tunes, offering a unique blend of diversity to every show. Their latest CD, Hearts Held High, is available now and features eight exciting brand new original compositions. The Hunt Family has completed four US tours and performed at places such as "The Tony Danza Show," the World Championships for Irish Dance and "Virginia's Royal Welcoming" for Queen Elizabeth in Richmond, VA.
The Band Perry, October 7, CHASE Stage
"Daddy rocked us to sleep with the Rolling Stones; Mama woke us up with Loretta Lynn. So we get it honest." -- Kimberly Perry
Inheriting a cross-pollinated love of country and rock & roll from their parents, The Band Perry -- siblings Kimberly, Reid and Neil Perry -- say that they bleed the bright red blood of American music. The three have always felt the drive to perform and create music, beginning when Kimberly strapped on her first Gibson guitar and fronted her first high school band -- at age 15, employing Reid, then 10, and Neil, only eight, as her roadies. In July of 2005, the siblings decided to join forces as one band. The Band Perry was then invited by the Coca-Cola Bottling Company to open all of the dates on their "New Faces of Country" tour that year. They caught the ears of Republic Nashville and signed to the new label in the summer of 2009.
Blues Old Stand Featuring Brady Blade, Jr., October 8, CHASE Stage
Blues Old Stand is a Southern funk n' roll band that established itself as one of the early "Jam Bands" of the '90s. The music is based in the blues, funk and soul of the fathers of groove, with musical influences ranging from Muddy Waters to Curtis Mayfield. Blues Old Stand has been touring and playing large festivals for more than 20 years.
Brady Blade Jr. has joined Blues Old Stand both on the stage and in the studio on various records produced by BLADE Studios. Brady is a Grammy winning artist and producer who has recorded and toured with Dave Matthews, Jewel, the Indigo Girls and Bob Dylan. Blues Old Stand has shared the stage with everyone from Ben Harper to Buddy Guy, from Widespread Panic to the Allman Brothers. They have been an accompanying band for many blues greats including Hubert Sumlin, Bob Margolin, Johnny Shines and Kent Duchaine. The unique blend of tone, and vast and diverse song list of original and cover songs, make Blues Old Stand a festival favorite.
Dirtfoot, October 9, CHASE Stage
Whether performing on big stages at festivals, or playing intimate settings in pubs and the finer taverns all over the Midwest & South, Dirtfoot puts on an uproarious show. The crowds come to take part in the fun and chaos, hollering to all the calls and responses, shaking their bean cans, and getting down with the infectious grooves. There is only one Gypsy Punk Country Grumble Boogie band in the land… Dirtfoot.
Led by the organic writings of Matt Hazelton with each player adding his own flavor and feeling to the songs and sound of the group, Dirtfoot is a blend of eclectic styles, as well as diverse personalities. All of their instruments are acoustic, but their energy and ingenuity will make you swear they are plugged in. Featuring instruments ranging from an acoustic guitar, banjo, upright bass, pots n' pans, drums, bells, saxophone, xylophone and more, this band has a truly engaging sound, a real dose of Gypsy, Punk, Country, Grumble Boogie!
You can view a listing of participating artists and food vendors, plus information on tickets and Revel hours at the Revel's website: http://www.redriverrevel.com. Be sure to check back for updates on entertainment, kids' activities, and food.
Shreveport-Bossier is full of relaxing modern conveniences wrapped in welcoming Southern charm. We take care of our visitors like family, filling you up with our tastiest food and treating you to as much entertainment as you want. We are Louisiana's Other Side, and here, we are a mix of wide-open Texas spirit and spicy Cajun attitude. We took the best of big Texas and the tastiest of Louisiana and blended it into our own brand of entertainment and fun. With so much to do in Shreveport-Bossier…why go anywhere else? Fall in love with Shreveport-Bossier! To learn more about all there is to see and do in Shreveport-Bossier, visit http://www.shreveportbossierfunguide.com.
###