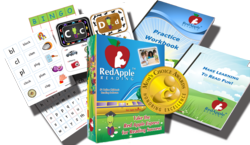 Beaumont, CA (PRWEB) March 27, 2013
March is National Literacy Month in the United States, and all month long, educators across the country have embraced this theme, celebrating the importance and value of reading. Tammy Bennecke, creator of Red Apple Reading, an interactive online tutorial program that helps children gain vital reading skills through interactive lessons and fun games, is making her program a part of the party, too.
This month, Bennecke is rolling out a new way to get her program into the hands of even more young learners. In response to requests from an ever-increasing Red Apple Reading fan base, Bennecke is rolling out a gift certificate program, which can be utilized by schools, PTAs, or other organizations in their fundraising initiatives. Red Apple Reading's new donation program includes gift certificates and promotional codes for use in accessing Red Apple Reading's ever-expanding programs.
The company's latest donation roll-out comes on the heels of ongoing offerings to make the program more affordable. Since the beginning of 2013, Red Apple Reading has taken part in promotional discounts with organizations including LivingSocial, a "$1 Deal" in February, and provides ongoing financial assistance packages for parents and teachers by request.
Red Apple Reading strives to live up to its motto of being "a small company with a big heart." And, for Bennecke, whose emphasis is on making her program more accessible and affordable to as many young learners as possible, the timing of National Literacy Month was right on target to open the door for the next stage of living up to the company motto.
"Raising awareness of the importance of literacy for children is one of the most important things we can do," Bennecke said. "What better time than now to share this—and what better way than to make our program available (and affordable) to as many parents and teachers as possible?"
Bennecke personally reviews all donation requests. Anyone interested in receiving donations from Red Apple Reading for their next fundraiser can visit Red Apple Reading's Contact Us page to fill out an online contact form. Requests can also be made by e-mailing support@redapplereading.com directly.
About Red Apple Reading: With offices in Southern California, Red Apple Reading was founded in 2011 by educator Tammy Bennecke. In the interest of fulfilling their motto of being "a small company with a big heart," Red Apple Reading is in the process of developing a full range of pre-kindergarten through third grade reading products, available both online and as mobile apps. Further goals include upper elementary/middle school reading adventure games. Red Apple Reading also plans to expand into other subject areas as the company's growth continues. Find out more about Red Apple Reading at http://www.RedAppleReading.com.