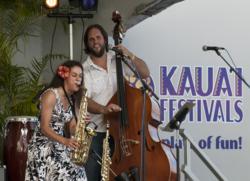 We're really excited to add a blues and jazz workshop by Lavay Smith and several of the featured artists. This really rounds out four days of amazing music on spectacular Kauai ... Judy Arrigo, Red Clay Jazz Festival Chair.
Kauai, Hawaii (PRWEB) March 28, 2013
Lavay Smith and the Red Hot Skillet Lickers, will headline Kauai's Sixth Annual Red Clay Jazz Festival on June 29th at Kauai Lagoons. Smith and her seven-piece band (playing four horns, piano, bass and drums) are recognized for classic blues and jazz in the style of the 1940s and 1950s. Based in San Francisco, the group tours internationally and has won a number of awards and acclamations by the press. Also featured will be the Maui Jazz Quartet with world-renowned percussionist, Emil Richards, and the Pro-Am Band from Kauai, a 12-15 piece jazz ensemble. The main concert is held in an outdoor setting overlooking the ocean at Kauai Lagoons, with tent seating, lawn seating and several specialty restaurants providing food and beverage booths. Jam sessions, workshops and a party are planned for the 26th through 28th. A second ticket is offered at half price if purchased by April 30th. For more information and tickets, go to http://redclayjazz.org
New for this year's festival will be a 2-hour blues and jazz workshop, held at Kauai Community College on Thursday the 27th. Smith, her pianist Chris Siebert; drummer, Paul Marchetti from the Maui Jazz Quartet and Kauai jazz musician, Kirk Smart will be on hand to teach aspiring musicians blues composition and blending. Leading up to the main concert will be jazz jam sessions on the 26th and 27th, and a "Meet the Artists" party on the 28th. Jam sessions on the 26th will be at the Kauai Marriott Aupaka Terrace Bar (in Lihue) from 5:30 to 7:30 featuring Ron Margolis and the Keoni Loa Jazz Quartet. The David Braun Group will be playing at The Shops at Kukuiula (in Poipu) from 6:00 p.m. to 7:30 p.m. Jam sessions on June 27th are at Aloha Beach Resort (Wailua) from 5:30 to 7:30 p.m. featuring the Amit Heri Trio and at Tiki Iniki (Princeville), also from 5:30 to 7:30 p.m. featuring the Kirk Smart Quartet. Friday's "Meet the Artists" party will be held at The Shops at Kukuiula, a fundraiser for jazz education. Hosted by the Kauai Concert Association, major sponsors for the Red Clay Jazz Festival include Kauai Lagoons, Koloa Rum, the Hawaii Tourism Authority and Kauai County.