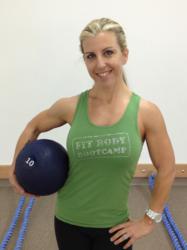 REDLANDS, California (PRWEB) March 15, 2013
Calimesa and Redlands Personal Trainer and Fit Body Boot Camp Owner Rebecca Tabbert is a certified personal trainer who has been successfully helping clients transform their lives. Ms. Tabbert was asked by Fit Body Boot Camp Founder and CEO Bedros Keuilian to develop a workout program that takes Fit Body Boot Camp's proven workout methodologies and convert them into a 14 day program that can be accessed via mobile devices and tablets.
As a result, the 14 Day Fat Furnace was developed for mobile devices and tablets. And when the Company was looking for someone to be the featured trainer in its application, it looked no further than to Ms. Tabbert given her years of personal training experience, exceptional instruction and presentation skills, and authorship of the exercises in the application.
The 14 Day Fat Furnace mobile application is a modified version of the workouts that thousands of clients have performed in Fit Body Boot Camp locations. It was developed to focus on consumers who either wanted to kick-start a new fitness program in the comforts of their home prior to joining a Fit Body Boot Camp location or those who were curious to find out more about Fit Body Boot Camp's workouts.
"I am blessed and excited to be part of an organization (Fit Body Boot Camp) that genuinely cares and has designed their vision around influencing 20% of the world's population to live healthy and fit by the year 2020," said Rebecca Tabbert, owner of Fit Body Boot Camps that are located in a Redlands fitness center and in a Calimesa fitness center. "Being asked to help create and film the workouts for this iPhone app is an honor."
"I believe that everyone should have the opportunity to experience Fit Body Boot Camp's Unstoppable Fitness Formula workouts, even those who want a little extra motivation or wanted to kick-start their fitness regimen before coming into one of our locations," says Bedros Keuilian, Fit Body Boot Camp CEO. "We wanted to create an application that would mimic our proven workouts, so I was ecstatic when Rebecca agreed to not only develop the workouts, but to also be featured in the application teaching and motivating participants through the workouts."
The Fit Body Boot Camp 14 Day Fat Furnace mobile application is currently available on the iOS platform and can be purchased on iTunes for $0.99. The Company has plans to release an Android version in the near future.
About Fit Body Boot Camp Redlands and Calimesa
Fit Body Boot Camp Redlands and Calimesa are owned and operated by Rebecca Tabbert. She is a certified personal trainer, possesses a strong nutrition background, and is driven to help and inspire residents in the Inland Empire Communities to lose weight, get fit, and become more confident in their everyday lives. For more information about Fit Body Boot Redlands and Calimesa, visit http://www.fitbodybootcamp.com/CA/Redlands-fitness-boot-camp, or http://www.fitbodybootcamp.com/ca/yucaipa-fitness-boot-camp/about, or call Rebecca at (909) 307-4956.