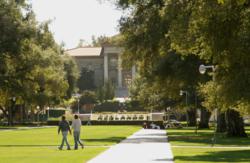 Redlands, California (PRWEB) September 04, 2012
August was a good month for University of Redlands. The university garnered an assortment of recognitions and honors during the month and capped it by welcoming its 11th president, Dr. Ralph W. Kuncl and the largest freshman incoming class in its history.
The month began when the university was named to the Forbes List of America's top colleges and then was included in the 2013 version of the Fiske Guide to Colleges. Next, the university was listed among the "Best 377 Colleges" in the Princeton Review. Finally, Washington Monthly listed the University of Redlands at No.30 among master's universities. This ranking landed the university in the top 5 percent nationally for institutions noted for their contributions to the "public good."
"This high ranking for the University of Redlands makes it clear to all that serving others is an essential ingredient in the `cultural DNA' of the university," Kuncl said. "I'm proud to say that our students and faculty are committed to making a positive difference in the world through activities of both head and heart."
The Princeton Review asks students attending the schools to rate their own schools on several issues - from the accessibility of their professors to quality of campus food. University of Redlands was listed at No.9 for institutions where class discussion is encouraged and No.19 for great financial aid, which was a list based on students' assessments of how satisfied students were with their financial aid package.
The Fiske Guide is compiled by former New York Times education editor Edward B. Fiske and is designed to give a selective, subjective and systematic look at 300-plus colleges and universities in the United States, Canada and Great Britain.
The Forbes rankings recognize the top 15 percent of the nation's 4,000 colleges and universities, effectively putting the University of Redlands in the top 5 percent of all colleges in the United States. The rankings, compiled for Forbes by the Washington, D.C.-based Center for College Affordability and Productivity, focus on the things that matter the most to students: quality of teaching, career prospects, high graduation rates and low levels of debt.
About University of Redlands
The University of Redlands is an independent non-profit liberal arts and sciences university consistently ranked among the best universities in the nation by U.S. News & World Report. Since the university's founding in 1907, Redlands has emphasized academic rigor, personal development and interdisciplinary studies. An Education + culture of elevated learning provides students with a holistic education that results in a unique life transformation. Redlands students learn equally about service, commitment, life and the world. As a pioneer in the burgeoning field of spatial learning, Redlands integrates spatial learning across academic disciplines. At the innovative Johnston Center, students have the opportunity to design their own custom major. Home to one of the oldest accredited music programs in California, the conservatory-style School of Music educates the whole musician. Adults may continue their education with programs tailored for working professionals at the Schools of Business and Education, offering evening degree-completion and graduate programs at 11 convenient Southern California locations.
###