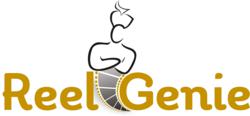 Our mission is to empower people to tell and preserve
their stories, no matter how
big or small.
Washington, DC (PRWEB) January 30, 2013
ReelGenie, an innovator in digital storytelling, has been selected as a finalist for the high-profile SXSW Accelerator. The company, based in Washington, D.C., is among eight competitors selected from hundreds of applicants in the Social Technologies category. ReelGenie will unveil its new technology at the live event.
ReelGenie helps people create and share family videos online. Users select a storyline for their movie, and ReelGenie guides them through the process of uploading photos, videos, and historical documents; recording voiceovers; and adding music to generate an online movie that can be shared with family and friends. Geared toward the creation of personal history movies for birthdays, memorials, anniversaries, and reunions, the service is the first of its kind. It improves upon slideshows and photo books by guiding users to tell a compelling story while incorporating a variety of rich content.
"My mother and I were making a video for my Grandmother's memorial when we realized that the available tools were limited," said David Adelman, ReelGenie's founder and CEO. "An online slideshow didn't give us the capability to tell a story, and editing software was expensive and difficult to use. We just wanted a way to create an inexpensive, compelling video that told a powerful story. That's how ReelGenie was born."
ReelGenie was developed to utilize the collaborative advantages of the Internet. Groups of users can work together, so each person can contribute their own material and participate in the creative process. The site also makes it easy to share completed videos with friends and family through social media tools and other publishing options.
"Our mission is to empower people to tell and preserve their stories, no matter how big or small," said Adelman. "We all have a unique story. Anyone should be able to make an emotional, expressive movie they are proud to share. ReelGenie was created so that everyone has affordable, easy-to-use tools at their fingertips."
ReelGenie combines three of the most popular computing trends — the collaboration of social media, the visual power of online video, and the technology benefits of the cloud — with a rapidly-growing interest in family history and storytelling. The company will present in front of a live audience and industry judges during the fifth-annual SXSW Accelerator at the Austin Hilton on March 11-12.
About ReelGenie
ReelGenie makes it easy for anyone to create family history stories by turning pictures, documents, text, and voice narration into engaging movies. Featuring intuitive interfaces, a collaborative production process, and seamless social media integration, ReelGenie lets users bring stories to life and preserve them for generations to come. Dubbed "The Genealogy Technology to Watch in 2013" by thought leader Thomas MacEntee, ReelGenie is revolutionizing video storytelling through its Web-based movie platform.
For more information on ReelGenie, please visit http://www.reelgenie.com. Follow ReelGenie's progress at SXSW on Facebook at http://www.facebook.com/reelgeniefilms or on Twitter at @reelgenie.
About SXSW Accelerator
The fifth annual SXSW Accelerator will take place March 11-13 in Austin, Texas. A live audience, as well as a panel of expert judges will be discovering advancements in social media, mobile applications, web entertainment, and more. The best part? Product demonstrations by the most ambitious talents in the world with the most creative new ideas to change it. We will catch a glimpse of the industry's future, with a guided tour by our emcees and judges.
This competition will be unlike any other. On March 11, 48 companies battle for your taste-making, trend-setting attention, leading to a fireworks display of innovation. Connections will be made and careers launched. On Tuesday March 12, the top 18 companies will be invited back, and at the end of the day winners of SXSW Accelerator will be announced.