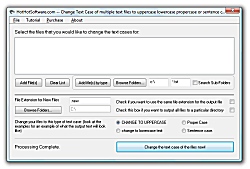 A nifty utility that saves a lot of time, very handy.
Los Angeles, CA (PRWEB) March 03, 2013
Many times professionals put together documents with incorrect text formatting. It can be a very time consuming process to reformat documents into uppercase, lowercase or proper 'sentence' case. New software from HotHotSoftware called "Change Text Case of Multiple Text Files into lowercase, uppercase and proper case" helps professionals accomplish this with the click of a button.
Documents can easily be reformatted with the click of a button. Multiple case formats are supported ("lowercase", "UPPERCASE" and "Sentence Case"). And finally files can be added from multiple sources, through recursive search. For more information on how to reformat text documents, please go to http://www.hothotsoftware.com/change-text-case-of-files-uppercase-lowercase_software/.
About HotHotSoftware.com
HotHotSoftware is a company that specializes in developing various utilities, applications and solutions to help speed up development time, and increase personal and business productivity. Applications range from flash based applications, to Microsoft Excel, Word, and Access plugins, to utilities and custom software development. HotHotSoftware has been featured in various online and offline publications, websites, and editorial sites.
For complete details, visit hothotsoftware.com. In addition, companies that are looking for unique custom software and solutions can contact HotHotSoftware for a quote.