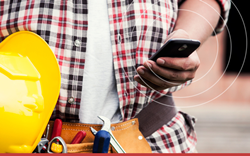 Attendees will learn about specific use cases for day-to-day and emergency communication, as well as best practices that help construction-related businesses comply with industry regulations, overcome other communication challenges while reducing overall costs
San Francisco (PRWEB) May 20, 2019
Regroup Mass Notification, the award-winning leader in emergency and day-to-day mass communication technology, today announced that it is joining forces with McCarthy Holdings, one of America's most well-established and largest construction companies, to present a live and on-demand webinar on implementing mass communication to increase operational efficiency — while reducing costs — in the construction industry.
The webinar is part of the Construction Executive Professional Education webinar series, and will take place on Wednesday, June 5, 2019 at 2 p.m. ET. To register for the event, please visit the Construction Executive registration page.
Attendees will learn about specific use cases for day-to-day and emergency communication, as well as best practices that help construction-related businesses comply with industry regulations, reduce work-related injuries, coordinate and expedite progress on job sites, and overcome other communication challenges while reducing overall costs. The webinar will cover:

Communication challenges that can be solved with the right solutions
How to address outdated and ineffective communication tools
How to improve ROI with job site and project coordination
How to use automated alerts to ensure compliance with weather-related OSHA regulations
The benefits of auto-translation and other cost-saving features in a mass notification system
The value of using mobile alerts in emergencies, and in day-to-day operations
To learn more about how Regroup is helping the construction industry, schedule a free online demo by visiting Regroup.com/demo.
About Regroup:
Regroup Mass Notification empowers better mass communication that keeps people safe and informed at all times. The company's award-winning, cloud-based mass communication platform is what clients across North America and around the globe rely on to send both emergency and day-to-day communications to millions of people. By enabling two-tap messaging to mobile devices, landlines, social media, email, websites, and more, Regroup Mass Notification helps organizations keep people safe, strengthen operational resilience, mitigate risk, and thrive in an increasingly unpredictable world.