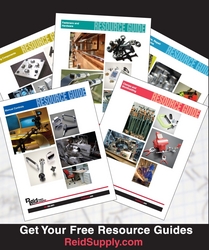 And for higher education, we provide detailed information in these Resource Guides which offer several advantages for learners all over the world.
Muskegon, Michigan (PRWEB) December 10, 2008
Reid Supply Company, a Michigan-based global distributor of industrial parts, announced today the addition of Reid Supply Resource Guides, useful to consumers, and the educational community. The e-documents help people who may need additional information to understand industry processes and standards, as well as choose the best-suited industrial supplies for their specific needs.
According to Greg Palmer, Reid Supply's Director of Marketing, product number, specifications and cost is not always enough to make the best industrial supply selection. These resource guides are an extension of the ReidSupply.com online knowledge base. They include supporting technical information not included in product catalogs. This information can help select, apply, install, replace, and maintain purchase decisions. That information is invaluable to educators hoping to help students to understand the nuances involved in trying to choose the right industrial part for a specific project.
"These guides offer the consumer one more tool in their need for accurate and helpful information," says Palmer. "And for higher education, we provide detailed information in these Resource Guides which offer several advantages for learners all over the world."
Not only do the guides offer a useful device to help whittle down choices, they are also great educational tools for high schools, trade schools and universities. Palmer also points out the availability of their free CAD library which encompasses over 90% of everything sold in their online catalog. All of these CAD drawings are free to schools and consumers at ReidSupply.com.
"We are really pleased to offer these free resources to anyone in the world," says John Carrier, President of Reid Supply. "Thousands of schools already use our free CAD downloads and our online and printed catalogs. Our new Technical Resource Guides will be just another way that we might help out educators and consumers."
Reid Supply Resource Guides are a technical extension to the Reid Supply catalog. They include:
1) Specifications, figures, charts, equations and procedures.
2) Design, maintenance and safety information.
3) Comparison Tables
4) Reference to professional standards, government regulations and reference manuals.
5) Easy to read and understand glossary of related terms and much more
"By years end, we will have developed 12 highly detailed free technical Resource Guides," says Palmer. "We continue operating with same commitment to the very best customer service and support, as we have for over 60 years. These free Resource Guides are just another way that we prove that we genuinely want to serve the customer better than anyone in the industry."
Reid's product offering features 12 color-coded categories including:

Manual Controls: Knobs, Handles & Hand Wheels
Clamps and Workholding
Tooling Components
Fasteners and Hardware
Leveling Devices and Vibration Control
Material Handling
Bearings and Power Transmission
Metalworking
Maintenance, Repair and Operations (MRO)
Pneumatics and Hydraulics
Structural Systems
Safety Supplies
In addition to the newly designed easy-to-use catalog and other print materials, Reid Supply re-launched their e-commerce web site, ReidSupply.com, with state-of-the-art search and navigation capabilities. The company is the only industrial distribution company that offers free CAD downloads on their web site. The web site also provides monthly sales fliers, free downloadable product information packets called Resource Guides, Reid SupplyLine monthly enewsletters and a new online catalog, which is a digital representation of their printed catalog as an easy online ordering alternative.
"By offering these free Technical Resource Guides, we're continuing to take care of customers by providing them the best new products as well as traditional old-fashioned customer service," says Carrier. "This is just another way that we reinforce our Rallying Cry - Others may be bigger, but nobody will serve the Customer better."
###