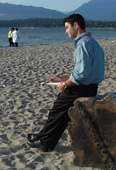 I could see myself in some of the sayings.
(PRWEB) August 08, 2007
Vancouver, BC (PRWEB) August 8, 2007 -- Dr. Bea Mackay and Dr. Warren Weir, Registered Psychologists from Vancouver, BC, Canada, proudly announce the launch of their unique, Relationship Help and Relationship Advice, self-help program, B-Sort. An innovative, interactive program designed for individuals who are confused, conflicted, or troubled about a relationship and need help to sort out their thinking.
The original concept for the new B-Sort interactive program was developed from a research study that focused on how individuals resolved inner conflicts, and was used successfully, for several years, in a standard printed format. The successful adaptation of the original concept is designed to reach a wider range of people, who for one reason or another, are reluctant to seek outside Relationship Help.
The program requires clients to sort through a series of question which compel them to look at their relationship from all angles with clarified thinking. B-Sort puts forth a series of 104 Relationship Help questions designed to address the most common issues that arise, regardless of the client's gender, preference, or age. The program then provides headings in which client's can file the statements according to "Like Me", "Not Like Me", and "Discard", and then place them in order on a board.
The process of addressing each statement compels the B-Sort client to clarify their own thinking and sort the important relationship issues, from the unimportant. B-Sort is a Relationship Help online tool that draws on years of knowledge from traditional Relationship Advice counseling sessions to provide clients with the most comprehensive and accurate interpretations possible.
"I could see myself in some of the sayings." writes one B-Sort Client, "Sometimes it rang a bell. It forced me to consider things I don't normally think about. I found the process of sorting the statements helped me see that the issues I'm finding in my relationships would probably not be issues if I was more clear on what I want/need in my life. It made me think a lot."
Easy to use and understand, B-Sort is a popular method of seeking objective third-party Relationship Help and Relationship Advice. As clients learn to clarify their own thinking, devoid of overwrought emotional response, they position themselves to make better and more decisive personal choices. The interpretive results, based on the final position of the cards on the board, are compiled from years of successful and insightful Relationship Advice and Relationship Help that have been offered to clients for guidance via traditional sessions for years.
B-Sort is a self-help tool and a guide for singles and couples, married or not, to become the source of their own Relationship Help and Relationship Advice. This unique, innovative, self-help program is designed to allow everyone to seek help without inconvenience, awkwardness, expense, stigma, or embarrassment. The program can be used singularly, or in tandem, to help open up dialogue between couples.
For more information about the B-Sort Relationship Help and Relationship Advice program, or for access to further relationship resources, tips, and articles, or to use the B-Sort program to help clarify thinking, please visit: http://www.b-sort.com.
###